You've reached the Virginia Cooperative Extension Newsletter Archive. These files cover more than ten years of newsletters posted on our old website (through April/May 2009), and are provided for historical purposes only. As such, they may contain out-of-date references and broken links.
To see our latest newsletters and current information, visit our website at http://www.ext.vt.edu/news/.
Newsletter Archive index: http://sites.ext.vt.edu/newsletter-archive/

Crop and Soil Environmental News, August 2004
2004 Wheat Production. Why did a great looking crop produce average yields?
By: Dr. Wade Thomason, Assistant Professor/Grains Specialist

Looking back at the 2004 wheat crop many producers had what looked like excellent yield potential. When grain was harvested, however, many just had average yields. This prompted many questions and an investigation into what occurred that might have lowered expected yields.
Grain yields in wheat are a function of three components: kernels per head, heads per acre, and weight per kernel. The first two components are determined early in the season and looking at these two factors many of us estimated high yields for 2004. The third component of yield, weight per kernel, is determined after anthesis (flowering) and is sensitive to environmental conditions. The effect of high temperature stress on grain weight of 10 wheat cultivars is demonstrated in Figure 1. Obviously some cultivars were affected more than others and the decrease in grain weight varied from 8 to 32%. On average, a 20% decrease in grain weight was noted when temperatures were increased from a 72°F high and a 63°F low to a 90°F high and an 80°F low.
The question remains; did this happen to us? Evaluating temperatures experienced at the Eastern Virginia AREC during the post-anthesis period for the 2004 crop gives us a good idea (Figure 2). The upper trend line in Figure 2 represents the average temperatures for 2004 and the lower line the 30 yr average. During this critical grain filling time, temperatures were well above normal and the crop likely had to use energy that would have been devoted to filling the grain and building grain weight to reducing the effects of temperature stress.
Based on the known effects of higher than optimum temperatures post-anthesis and the fact that over 80% of the counties in Virginia were experiencing above normal temperatures in the month of May, it's easy to see that while we had the necessary heads per acre and kernels per head to reach excellent yields, the final component of yield (weight per kernel) was the limiting factor in 2004.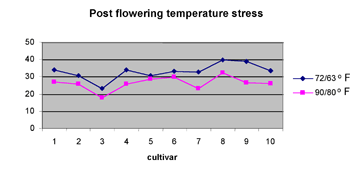 Figure 1. Effect of post-flowering temperature stress on grain yield of 10 wheat cultivars.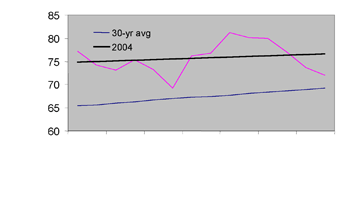 Figure 2. Average daily temperatures at the EVAREC, Warsaw, VA, May 15 to May 31, 2004.

Visit Virginia Cooperative Extension