You've reached the Virginia Cooperative Extension Newsletter Archive. These files cover more than ten years of newsletters posted on our old website (through April/May 2009), and are provided for historical purposes only. As such, they may contain out-of-date references and broken links.
To see our latest newsletters and current information, visit our website at http://www.ext.vt.edu/news/.
Newsletter Archive index: http://sites.ext.vt.edu/newsletter-archive/

Financial Analysis of an Agricultural Business – the Cash Flow Statement
Farm Business Management Update, February-March 2007
By Alex White (axwhite@vt.edu), Instructor, Agricultural Finance and Small Business, Agricultural and Applied Economics, Virginia Tech

A cash flow statement is probably the most useful financial statement in the day-to-day management of any business. Cash flow statements have different formats, and they go by different names (statement of cash flows, cash budgets). The cash flow statement is a listing of all the cash inflows and cash outflows during a certain period (week, month, quarter). I tend to use either a quarterly or a monthly cash flow statement that lists all of the cash flows for each period, as well as a summary column for the entire year. For simplicity, I've shown a sample quarterly cash flow statement at the end of this article.
Sections of a Cash Flow Statement
A cash flow statement has three parts: Cash Inflows, Cash Outflows, and Summary. The Cash Inflows section lists all of the cash that is coming into the business each period. You'll notice on the sample cash flow statement that the cash inflows are grouped by major category (hogs sold, corn sold, etc.). For most farming operations, I will include cash inflows from off-farm jobs, custom work, and gifts, as well as the cash income from the farming operation. But DO NOT list any credit sales or accounts receivable on the cash flow statement UNTIL the cash is actually received.
The Cash Outflows section is also divided into the main cash expense categories for your operation. Using the same expense categories as on the IRS Form 1040 Schedule F (Profit or Loss from Farming) can be of great help in constructing your annual income statements! However, you should also include cash outflow categories that are not listed on the Schedule F, such as principal payments or family living expense. These are not actual expenses but they do represent cash that is leaving your business. Again, list only accounts payable or credit purchases when the cash ACTUALLY LEAVES your business, not when you incur the expense. Finally, don't include non-cash expenses such as depreciation and unrealized capital losses.
The Summary section shows your net cash flow (inflows minus outflows) for each period, as well as information on your operating loan (balance outstanding, principal and interest paid each period, etc.). The "bottom line" of a cash flow statement shows your ending cash balance for each period.
Uses of a Cash Flow Statement
Cash flow statements are a powerful management tool. From a financial analysis standpoint you can determine a lot of useful information from this statement. The main uses of a cash flow are
clearly seeing when you have cash coming into or leaving your operation;

easily identifying your top five cash outflows for cost control management;

identifying potential surplus or deficit periods throughout your operating year;

estimating the minimum operating loan that you should request from your lender;

determining when you will need to borrow from or repay an operating loan;

determining when to schedule your loan payments or insurance premium payments; and

estimating whether you have enough cash to make capital purchases.
For example, examine the sample cash flow statement at the end of this article. By listing cash flows in the period that they occur, the cash deficit in Quarters 1 and 2 is easy to see as is the significant cash surplus in Quarter 4. You can clearly see that a majority of the cash inflows are occurring in Quarters 3 and 4, while over half of the cash outflows are occurring in Quarters 1 and 2. Now you can dig deeper into the financial condition of your operation to improve its cash flow. Here's a quick list of what this cash flow can tell you:
Quarter 4 has the highest cash inflows, due to corn sales;

Quarters 1 and 2 have the highest cash outflows for two main reasons:

Expenses related to crop production (seed, fertilizer, and chemicals);
Annual payments on term loans scheduled for Quarters 1 and 2;

Due to the cash deficit, you would need an operating loan of just under $100,000 cumulative operating loan balance in Quarter 2.
Having identified some key factors, you can take actions to improve the cash flow of your business.
Match the term loan payments to the quarters with a cash surplus;

Schedule the loan payments for Quarters 3 or 4, or possibly quarterly payments;

Move some of the cash inflows from crop sales to Quarter 1;

Purchase some of the crop supplies in Quarter 4 when more cash is available;

Reduce the top 5 expenses such as purchased feed, fertilizer, interest, chemicals, and labor; and

Increase income from custom work during Quarters 1 and 2, if possible
Parting Shot
The last thing I'll mention about a cash flow statement is that your lender will absolutely love you if you provide him/her with historical and projected cash flow statements. These cash flow statements will help you and your lender structure your loans so that cash flow of your business' is not adversely impacted. They also show your lender that you are actively managing the financial condition of your business. If you only have time to construct one financial statement, I would recommend focusing on the cash flow statement. Remember, "cash is king," so be proactive in managing your cash flow.
If you would like to receive an Excel spreadsheet with a basic cash flow statement, please contact Alex White at axwhite@vt.edu, or call Jill at (540) 231-7727 and leave your contact information.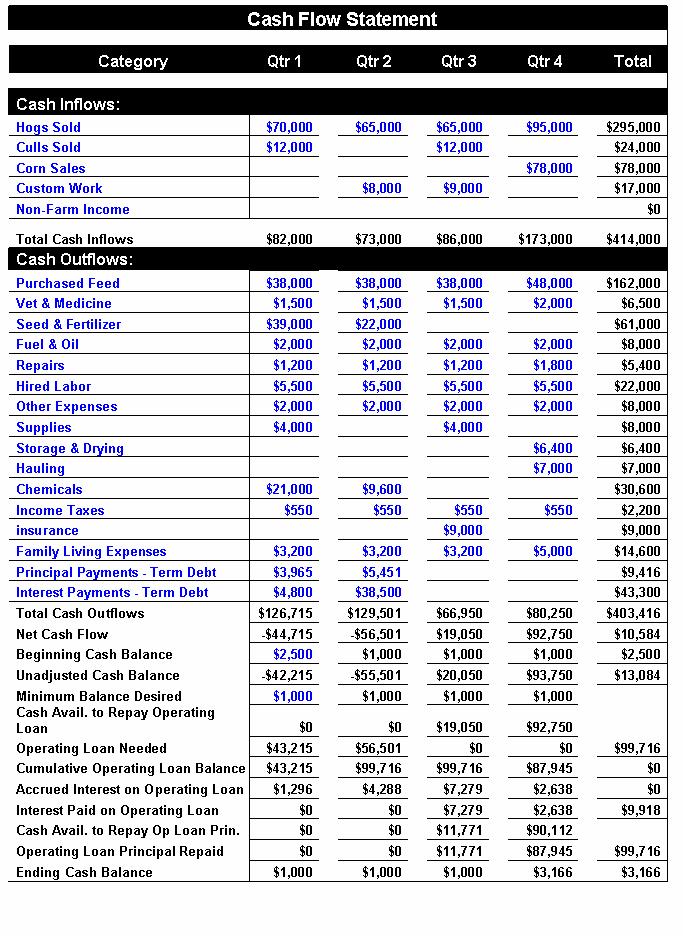 Visit Virginia Cooperative Extension