You've reached the Virginia Cooperative Extension Newsletter Archive. These files cover more than ten years of newsletters posted on our old website (through April/May 2009), and are provided for historical purposes only. As such, they may contain out-of-date references and broken links.
To see our latest newsletters and current information, visit our website at http://www.ext.vt.edu/news/.
Newsletter Archive index: http://sites.ext.vt.edu/newsletter-archive/

The Cattle Business: Drought Impact Continues
Livestock Update, May 2000
Bill McKinnon, Extension Animal Scientist, Marketing, Virginia Tech

The impact of the severe drought in Virginia during 1999 continues to be felt in 2000. Just witness the prices paid lately for anything with four legs and a "moo" that can be grazed.
The dry spring and summer of 1999 over most of Virginia meant short hay crops, burnt pastures, and summer feeding of cattle. The lack of feed forced some cow/calf operators to wean and sell calves early and to cull deeper into the cowherd. Stocker cattle operators moved many cattle earlier in the summer than normal. The graph below illustrates the earlier than normal movement of feeder cattle marketed through the Virginia Cattlemen's Association sponsored sales.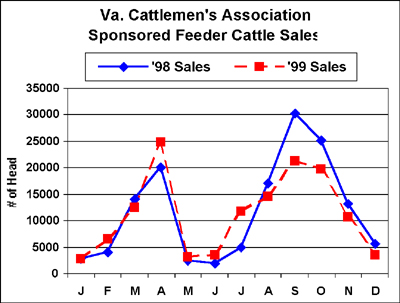 The drought induced early marketing of Virginia feeder cattle also altered the typical seasonal price pattern. When many of our yearling cattle and heavyweight calves were being sold in June, July, and August, some of our traditional buyers were not ready to purchase cattle. A large number of these cattle marketed in the summer months went westward toward commercial feed yards. When September and October arrived, many of our traditional yearling cattle customers found the yearling supplies gone. The limited supply of calves still around were sold on a higher trending market in the later fall months.
The short available forage supplies in the fall of 1999 forced many cow/calf operations to reduce herds to get through the winter. The Jan. 1, 2000, inventory report indicated that there were 4% fewer beef cows in Virginia as compared to the previous year. Many backgrounding operations also had to cut back on the number of calves that they normally winter. The inventory report also indicated that steers over 500 pounds in Virginia were off 8% from the previous year while calves under 500 pounds were down 10%.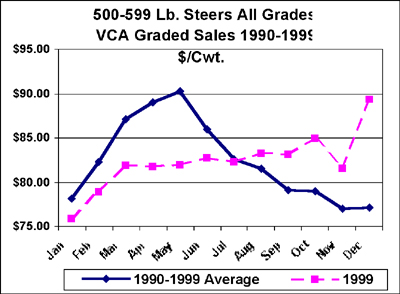 The spring of 2000 finds both cow/calf and stocker cattle operators scrambling to restock. Most sets of quality bred heifers due to calve in the fall have brought over $1000 a head. The limited supply of four and five weight stocker steers have consistently fetched over a dollar a pound with the heifer mates not being left too far behind.
This spring has also come at a time when the industry has cut numbers nationwide but then suddenly finding stronger retail demand for beef. This resurgence in beef demand ends a twenty-year decline. A new sense of optimism pervades the industry as it typically does during this phase of every cattle cycle. If history holds form, the next three years should bring the strongest prices for feeder cattle during the ten year cycle.
The impact of the 1999 drought may last into the next year. Some portions of the state received significant late summer rains thanks to a hurricane or two. Much of the western and southwestern sections of Virginia remained abnormally dry until recent rains. While the hurricane spawned rains created some much needed fall grazing, the southwestern portion of the state found itself feeding a limited supply of hay earlier than normal. Where there was good fall grazing, many cows were able to put back on some lost body condition and should have already bred back or have a good likelihood of doing so. Some fear that too many spring calving cows in western Virginia calved in poor condition. Studies have consistently demonstrated that cows calving below a body condition score of 5 are slower to breed back after calving. Those thin cows now may show up as open this fall or be standing alone without a calf at the end of next spring's calving season. Though the nightly news stories of the drought of '99 are forgotten by most, it continues to impact the state's beef industry

Visit
Virginia Cooperative Extension