You've reached the Virginia Cooperative Extension Newsletter Archive. These files cover more than ten years of newsletters posted on our old website (through April/May 2009), and are provided for historical purposes only. As such, they may contain out-of-date references and broken links.
To see our latest newsletters and current information, visit our website at http://www.ext.vt.edu/news/.
Newsletter Archive index: http://sites.ext.vt.edu/newsletter-archive/

The Cattle Business: Market Trends
Livestock Update, October 2000
Bill R. McKinnon, Extension Animal Scientist, Marketing, Virginia Tech

As summer fades into fall, the feeder cattle market finds itself under pressure in Virginia. Feedlot demand for replacement cattle has cooled from the fever pitch levels set in late winter and spring. Projected costs of gain of around $.40 per pound set a fire under the feeder cattle market earlier in the year. The record high prices paid for spring feeder cattle have contributed to feedlot losses for fed cattle marketed during late summer.
The same cheap grain that made feeder cattle attractive in the spring into early summer has contributed to the current red ink on feedlot closeouts. Low costs of gain have encouraged cattle feeders to feed cattle to heavier than normal weights. Average slaughter weights during the July to September period ran roughly 7 to 18 pounds ahead of the same period in 1999. The heavy finished weights multiplied by the 7 to 11% higher number of cattle marketed during August has generated unexpected higher supplies of fed beef. Only a substantially smaller cow kill kept total beef supplies during August at a 1% increase over 1999. Large numbers of heavy cattle on feedlot show lists limit the cattle feeders' bargaining position with packers.
Recently cattle feeders have had access to an additional source of feeder cattle as calves from drought stricken areas of western states have come to market earlier than normal. With moisture conditions still below normal in much of the area, additional calves will go directly to the feedlot this fall instead of wintering on wheat pasture in the southern plains.
The graph below illustrates the substantially higher prices paid from yearling feeder cattle this summer. The graph also suggests that prices are roughly following the ten-year price trend for 8-weight yearlings.
Virginia's telo-auction feeder cattle marketing program conducted by the Virginia Cattlemen's Association continues to offer an excellent marketing alternative for larger groups of yearlings and heavy calves. The table below compares telo-auction prices with similar weight L&M1 cattle sold in VCA sponsored graded sales during the same week during the summer of 2000.
Telo-Auction Prices Compared to L&M1 Cattle in VCA Graded Sales
June - September 2000
Steers
Heifers
700-799 lb.
800-899 lb.
900-999 lb.
700-799 lb.
800-899 lb.
Price Advantage
& $/Cwt.
$4.03
$2.51
$2.60
$0.84
$4.62
The telo-auction prices in the table above should caution folks who trade in the field on their cattle to not sell their cattle too cheaply by basing their price upon the in-barn sale prices.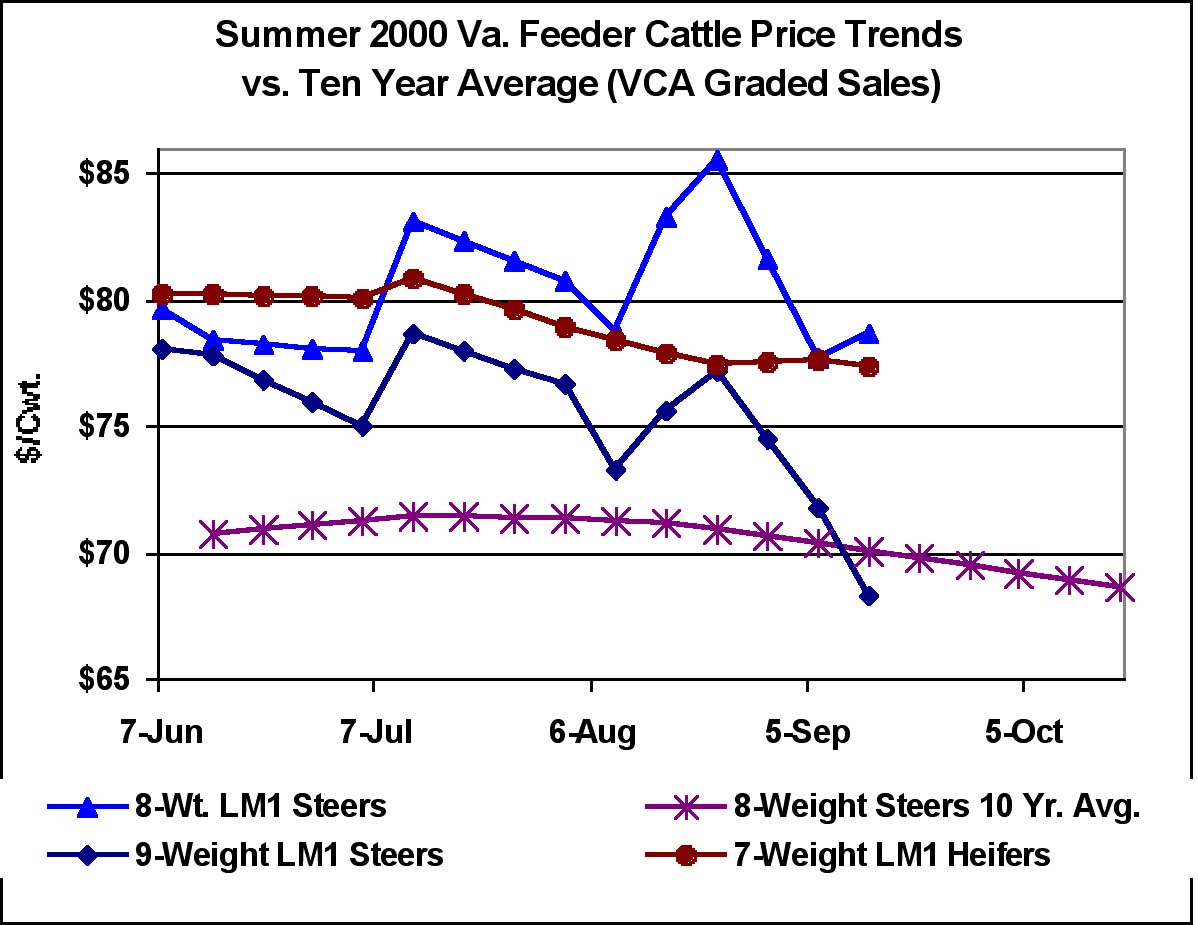 Visit
Virginia Cooperative Extension