You've reached the Virginia Cooperative Extension Newsletter Archive. These files cover more than ten years of newsletters posted on our old website (through April/May 2009), and are provided for historical purposes only. As such, they may contain out-of-date references and broken links.
To see our latest newsletters and current information, visit our website at http://www.ext.vt.edu/news/.
Newsletter Archive index: http://sites.ext.vt.edu/newsletter-archive/

Beef Quality Corner - Injection Site Update
Livestock Update, December 2001
Bill McKinnon, Extension Animal Scientist, Marketing, VA Tech

The problem of injection site damage to beef continues to be a nagging concern for the industry. Anyone who has been anywhere near the cattle business during the last decade has heard about the problem.
For years, producers and veterinarians administered vaccines, antibiotics and other injectables by the handiest route - intramuscularly in the rump. That was the most convenient route and there were no visible injection site "knots" on the neck. What the industry discovered was that there were still "knots," but now they were deep in the top sirloin muscle group. Additionally, those injection site lesions remained present when the cattle were harvested and the beef arrived to the retailer or consumer.
The discovery of the problem, the educational program and the progress made in reducing the incidence of injection site lesions has been a successful example of industry leadership and effective use of check-off funded educational programs. Though the incidence of injection site lesions in beef has declined from the huge percentages of the early 1990's, it is obvious a few folks are still not getting the message. There seems to be both some misconceptions about the problem and a lack of willingness for producers to accept responsibility for the issue.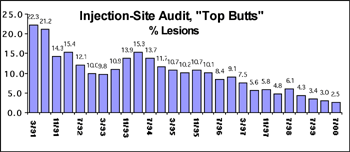 The injection lesions that are found before they reach the consumer are certainly a concern because they result in trim losses and extra labor. These extra expenses add to the processor's costs and are ultimately paid for by the cattle producer. The most serious damage caused to the industry by the lesions is when they reach the consumer. Even lesions that have regressed tend to leave an unsightly scar or calloused area. Additionally, shear force tests have shown that beef located up to three inches away from the lesion is much tougher than normal.
In many cases it has been difficult for cow/calf producers to accept their share of responsibility for the injection site problem. "How can the little vaccination I give to light weight calves show up months down the road?" Some folks have also incorrectly assumed that injection lesions only resulted from the use of vaccines such as the clostridial products. Research work conducted by Colorado State University has demonstrated that injection site damage is present at least one year after the injection and that the clostridial vaccines are not the only culprit. The table below illustrates the incidence of injection site lesions when calves were vaccinated at branding (48 days of age) and at weaning (199 days of age) with different products. It is clear that the lesions were a problem at slaughter; which was 7.5 months after the vaccinations at weaning and 12 months after vaccinations at turn-out time.
The Effect of Product Injected, Timing of Injection, Incidence of Lesions, and Amount of Trim Loss
Product Injected
Timing of Injections
% of calves with lesion
Weight of trim loss
2-mL Clostridial
Branding
72.5%
1.7 oz.
Weaning
46.3%
1.1 oz.
5-mL Clostridial
Branding
92.7%
3.0 oz.
Weaning
79.5%
2.4 oz.
Vitamin AD
Branding
5.3%
2.7 oz.
Weaning
10.0%
1.9 oz.
Antibiotic (4.5mL/ 100 lb.)
Branding
51.2%
3.7 oz.
Weaning
92.3%
3.1 oz.
The injection site lesion problem is also a concern with slaughter cows. The occurrence of injection site lesions in market cows continues to be above 40%. Contrary to many folks' perceptions, the beef from slaughter cows does not wind up in the grinding tub. Many whole primal cuts such as the rib, loin, and top sirloin butt may find their way to family steak restaurants. Cuts from the rump and round may be marketed as "100% lean" and be used in roast beef sandwich products. Producers who say that those lesions are the packer's problem are simply failing to accept their responsibility to beef quality assurance and long term beef demand.
Some basic guidelines for using injectables include:
Read the label
All injections given in front of the shoulder
Choose the subcutaneous route when possible
Give no more than 10 mL per injection
Do not disinfectants around needles when using modified live vaccines
Do not combine vaccines into one needle
Mark and separate syringes

Visit
Virginia Cooperative Extension