You've reached the Virginia Cooperative Extension Newsletter Archive. These files cover more than ten years of newsletters posted on our old website (through April/May 2009), and are provided for historical purposes only. As such, they may contain out-of-date references and broken links.
To see our latest newsletters and current information, visit our website at http://www.ext.vt.edu/news/.
Newsletter Archive index: http://sites.ext.vt.edu/newsletter-archive/

Sheep Update
Livestock Update, May 2002
Scott Greiner, Extension Animal Scientist, Sheep, VA Tech

Eastern Stud Ram Show and Sale Scheduled for June 14-15
The 2002 Eastern Stud Ram Show and Sale will be held at the Augusta Expoland near Staunton June 14 and 15. This annual event draws breeders from Virginia and across the United States. The show will be held on Friday, June 14 beginning at 8:00 a.m. This year, the Eastern Stud Ram Sale will host the National Dorset Sale. The show order is as follows: Hampshires, Dorsets, Suffolks, Southdowns, Wether Sires and Dams, and club lambs. The sale begins at 9:00 a.m. on Saturday, June 10. Sale order will be the same as show order. Yearling rams and ewes (born 9/1/00 to 8/31/01) of each breed will sell, as well as fall-born ram and ewe lambs (born 9/1/01 to 12/31/01) and spring-born ram and ewe lambs (born 1/1/02 and after).
Details of Ewe Lamb Expansion Payment Program Announced
The U.S. Department of Agriculture (USDA) on March 27, 2002, published the new rule on the extension of the Lamb Meat Adjustment Assistance Program (LMAAP) for an additional year through July 31, 2003. The new rule includes the much anticipated ewe lamb expansion payment program that will provide incentives for producers to purchase or retain breeding ewe lambs.
Per the agreement with the 201 petitioners, USDA has allocated an additional $37.7 million for the extension of LMAAP. Of that amount, $26 million will be allocated to the new ewe lamb expansion payment program for years three and four of LMAAP, while the remaining funds are for payments for feeder and slaughter lambs marketed during year two through year four of LMAAP.
To be eligible for the ewe lamb expansion payment, a sheep operation must retain or purchase ewe lambs into their flock August 15, 2001, through July 31, 2003. The producer must certify that the eligible ewe lamb meet several basic criteria, including: not older than 18 months of age; identified with an Animal and Plant Health Inspection Service approved scrapie program (compliance with the federal interstate movement restrictions for scrapie as it applies to the state in which you operate) and does not possess any of the characteristics of parrot mouth or foot rot.
Eligibility requirements also include certification of the number of ewe lambs retained or purchased since August 15, 2001, in order to receive the $18 per head payment. Producers will also need to certify to several basic quality factors of the lambs, including retention in a herd for a production cycle.
Sign-up for the U.S. Department of Agriculture incentive payments for ewe-lamb retention began on Monday, April 8, 2002. Payments are $18 per ewe lamb for year three of the program through July 2002. The application is an updated version of the same form producers will use for feeder- lamb and slaughter-lamb payments, with the addition of a section for ewe lamb self-certification.
Further information on program restrictions, eligibility requirements and other LMAAP payments is available from local USDA Service Centers and on USDA's Farm Service Agency Web site at http://222.fsa.usda.gov.
-adapted from ASI
Spring Lambing System: Management and Marketing Considerations
April has traditionally been a popular lambing time for Virginia flocks for a variety of reasons. Typically, facility requirements are minimal compared to winter lambing systems with pasture lambing frequently practiced. Secondly, spring lambing favors a large number of lambs born due to the high fertility of ewes mated in late fall. This seasonal nature of sheep reproduction that favors spring lambing is particularly favorable for breeds common to Virginia- Suffolk and Dorset. Generally, this large number of lambs born results in more pounds of lambs marketed. Finally, spring lambing makes most efficient use of Virginia's abundant forage resources. Both the ewe flock and lamb crop derive a large portion of their nutrition from growing forage, resulting in the spring lambing system having reduced dependence on costly harvested and purchased feedstuffs. Together, these factors make the spring lambing system favorable from a production and economic sense for many commercial sheep flocks.
For any livestock enterprise, a key to profitability is "producing for the market" vs. simply "marketing what is produced." Production and management systems need to be designed with a target market for the end product. For the sheep enterprise, this relates to the production of a lamb of a certain type/quality (grade) and weight, to be marketed at a particular time of year. For many spring-born lambs, marketing occurs sometime in the fall when forage resources diminish. Typically, these lambs are sold directly off grass as feeder lambs. Predictably, the lowest prices of the year are paid from September-November when many of these lambs are marketed. The graph below depicts seasonal trends in Virginia's lamb market. The prices represent weekly average prices for "Blue O" lambs (Choice and Prime, Yield Grade 1-3, weighing 95-125 pounds) sold in weekly markets in the Shenandoah Valley region.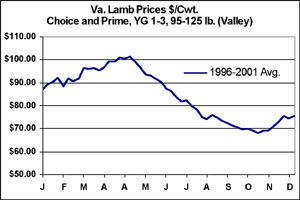 Though there may be single year variations and variation associated with special sales (particularly those targeting ethnic holidays), the highest prices paid for lambs in weekly or monthly scheduled sales tend to come in April and May. With these seasonal price trends, management and nutrition that result in marketing of spring-born lambs after January 1 are advantageous. Targeted spring-born lamb marketing dates of January through March results in the sale of heavier lambs on historically higher prices compared to selling feeder lambs in the fall.
Recent budget analysis has projected a spring-lambing system with lambs marketed January-March to generate higher net returns to labor and equity compared to winter and fall lambing. This advantage is primarily a result of the high income from the sale of heavy lambs during a period of historically high prices. As a forage-based system, spring-lambing has relatively low feed costs with a major portion of those costs dedicated to finishing the lambs in the fall and early winter.
Management of spring-born lambs during the spring, summer, and early fall grazing months should concentrate primarily on parasite and predator control. An effective strategic deworming program is critical to lamb health and performance since the lambs will be grazing during the peak parasite infestation season. A predator control program is critical to ensure a high percentage of lamb crop will be marketed. Lamb gains should be derived from forage. Early grain feeding should be avoided, as the additional weight gain will be expensive and not realized through heavier marketing weights. Lambs can be weaned at a relatively old age, provided pasture resources are adequate to graze both ewes and lambs. As forage quantity and quality decline, weaning will allow for more effective parasite management for the lambs. Additionally, moving lambs to highest quality pastures will likely optimize performance until the finishing phase is initiated in late fall.

Visit
Virginia Cooperative Extension