You've reached the Virginia Cooperative Extension Newsletter Archive. These files cover more than ten years of newsletters posted on our old website (through April/May 2009), and are provided for historical purposes only. As such, they may contain out-of-date references and broken links.
To see our latest newsletters and current information, visit our website at http://www.ext.vt.edu/news/.
Newsletter Archive index: http://sites.ext.vt.edu/newsletter-archive/

Sheep Update
Livestock Update, October 2002
Scott Greiner, Extension Animal Scientist, Sheep, VA Tech

2002 Virginia Performance Tested Ram Lamb Sale Results
The 27th Annual Virginia Performance Tested Ram Lamb Sale was held at the Virginia Sheep Evaluation Station near Steeles Tavern on Saturday, August 24. A total of 47 rams sold for an average price of $384. Top-selling ram was a Suffolk consigned by Meadows Suffolks from Buchanan, VA and sold to Alpine Farm and Clearview Farm of Buchanan for $650. Suffangus Farm of Greenville, VA sold two Suffolk rams for $530 each; one selling to Bailey Bierhuizen of Culpeper, VA and the other to A.C. Spotts of Dublin, VA. Two fall-born rams paced the Dorset sale at $460 each: a consignment from Wade Brothers of Greenville, VA sold to Shepherd Hill Farm of Rixeyville, VA; and a Wolford Farm consignment from Wytheville, VA sold to A.C. Spotts of Dublin, VA. Top selling Hampshire ram was consigned by Wilson Stock Farm of Rural Retreat, VA and sold to Pete Martens of Dayton, VA for $360. Ron and Carla Young from Van Wert, OH purchased the top-selling Dorper ram from Sunny Ridge Farm in Weyers Cave, VA for $330. Rams sold to buyers in Virginia, Maryland, North Carolina, Ohio, and West Virginia. Sale results by breed were as follows:
| | |
| --- | --- |
| | Sale Average |
| 5 Fall Dorsets | $406 |
| 3 Winter Dorsets | $383 |
| 4 Dorpers | $250 |
| 4 Hampshires | $250 |
| 1 Southdown | $250 |
| 30 Suffolks | $421 |
| 51 Total Rams | $384 |
The Virginia Ram Lamb Performance Test is sponsored by the Virginia Sheep Producer's Association.
2002-03 Virginia Commercial Ewe Lamb Development Program Begins
The second annual commercial ewe lamb development and marketing program recently began. The purpose of the program is to provide a source of quality replacement ewes with documented health, management, and genetics for Virginia commercial flocks. The program is being conducted at the Virginia Sheep Evaluation Station, located at the Virginia Tech Shenandoah Valley Agriculture Research and Extension Center located near Steeles Tavern. A total of 116 commercial crossbred ewe lambs (born November, 2001 through April, 2002) were delivered to the station on September 10. Ewe lambs are being developed on grass with supplemental grain mix provided to optimize growth and reproductive performance during the development program. Ewes have been allocated to breeding groups based on age, weight, and breed. Ewes will be mated to purebred rams, which have all been evaluated on the 2002 Virginia Performance Ram Lamb Test. Two Suffolk and two fall Dorset rams will be utilized, with approximately the same number of ewes mated to each ram breed. Rams will be placed with the ewes October through mid-December. Breeding dates will be recorded on all ewes, and pregnancy status will be determined in late December via ultrasound. Ewes will be sold in conjunction with the annual VA-NC Shepherd's Symposium on Saturday, January 11, 2003 at the Rockingham County Fairgrounds in Harrisonburg, VA. Bred ewes will be sold in groups of 2-5 head, based on genetics and expected lambing date. For more information, contact Scott Greiner at 540-231-9163.
Fall Lamb Marketing
On a national basis, lamb prices through late spring and summer have been stronger than a year ago. However, mid to late summer prices here in Virginia have been in the mid $60 per cwt. range, dragging behind both feeder and slaughter lamb prices quoted in the Midwest. Market reports suggest that lamb feeders are staying current, with both slaughter weights and yield grades below a year ago. These factors reinforce the seasonality of the lamb market in Virginia, and the importance of timely targeted marketing.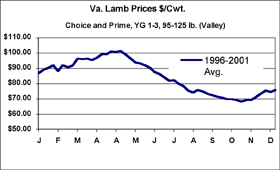 With Virginia's close proximity to major population centers found in the Northeast, many of Virginia's lamb markets are sensitive to increased demand for lambs around ethnic holidays. This increase in demand in many instances results in higher prices received for lambs. The holidays of interest include Christian, Jewish, and Muslim holidays (see table below). Of most interest are the Muslim holidays of Ramadan (one month long) and Eid al Adha. During these two celebrations, lamb meat is preferred and eaten regularly, and therefore lambs are in high demand around the time of these celebrations.
As with any market, lamb type and kind (size, age, condition, breed type, etc.) is an important factor in determining suitability and therefore price potential in the ethnic market. Generally, the Muslim market prefers a lamb lighter in weight (50 to 90 pounds) than traditional markets, although heavier lambs may also be acceptable. Excessively fat lambs are commonly discriminated against, although lambs should exhibit adequate finish (not thin). Lambs with blemishes (broken horns, wounds, lameness) or are unthrifty or dirty are also undesirable. Depending on specific market preferences, such characteristics as tails, horns, intact scrotums, and certain breed type may have an impact on price received.
With this year's widespread drought, it is likely that several lambs will move through marketing channels earlier that usual. Management strategies that allow for marketing of feeder and slaughter lambs in November and later historically have been advantageous compared to early fall marketing dates. Depending on current weight and condition, many spring-born lambs will fit the November ethnic market (targeted at Ramadan). These lambs need to be managed appropriately, so that they fit the weight and condition specifications of the intended market. Generally, providing supplemental grain to lambs coming off grass is an economically sound decision prior to marketing. This remains true for the ethnic market, provided the lambs do not get excessively heavy or fat.
Several producer groups around the state have targeted lamb sales to coincide with the demand for lambs for these ethnic holidays. These sales are normally scheduled a week to ten days prior to the holiday of interest. The intent of these coordinated efforts is to assemble a significant quantity of lambs of the appropriate type and kind that are of interest to specific buyers. In most cases, the Virgnia Department of Agriculture and Consumer Services personnel are involved to grade and describe the lambs for the sale. In many cases, lamb sales are coordinated to coincide with various ethnic holidays and seasonal demands for lamb. Interested producers should contact the sale coordinator well in advance to discuss details regarding the sales, including price potential and lamb type/kind most desirable. The following is a list of area lamb marketing efforts:
Northern Virginia Old Dominion Livestock Producers Assoc. - Winchester Seasonal lamb and other sheep sales Contact: Gary Hornbaker, Extension Agent, Loudoun Co. 703/777-0373
Shenandoah Valley Rockingham Livestock Market - Harrisonburg Targeted weekly lamb sales Contact: Jim Chamber, market manager 540/434-6520
Southwest Virginia Eastern Lamb Producers Coop. - Dublin Seasonal electronic lamb sales Contact: Joe Meek, Pulaski Livestock Market 540/674-5311
Central Virginia Madison Livestock Livestock Market - Madison Mills Graded monthly sales Contact: Jim Riddell, Extension Agent, Louisa Co. 540/967-3422
Western Highlands Monterey Livestock Market - Monterey Seasonal graded electronic feeder and market lamb sales Contact: Sherry Sullenberger, market manager 540/468-2135
Holiday Lamb Marketing Calender
Holiday
2002
2003
Eid al Adha
February 23
February12
Islamic New Year
March 15
February 22
Start of Passover
March 28
April 17
Christian Easter
March 31
April 20
Orthodox Easter
May 5
April 27
start of Rosh Hashanah
September 7
September 27
Ramadan begins
November 6
October 27
start of Hanukkah
November 20
December 20
Christmas
December 25
December 25
Shepherd's Symposium Scheduled for January 10 & 11, 2003
The annual Virginia-North Carolina Shepherd's Symposium will be held Friday and Saturday, January 10 & 11, 2003 at the Sheraton Four Points Hotel in Harrisonburg. Please mark your calendars now and plan to attend this educational meeting and symposium. Speakers will cover a range of production, management, and marketing topics. Details will follow, and registration information will be out in October. For more information, contact Scott Greiner, Virginia Tech, phone (540)231-9159.



Visit Virginia Cooperative Extension