You've reached the Virginia Cooperative Extension Newsletter Archive. These files cover more than ten years of newsletters posted on our old website (through April/May 2009), and are provided for historical purposes only. As such, they may contain out-of-date references and broken links.
To see our latest newsletters and current information, visit our website at http://www.ext.vt.edu/news/.
Newsletter Archive index: http://sites.ext.vt.edu/newsletter-archive/

Celeste Crisman Joins the Faculty of the Animal & Poultry Sciences Department
Livestock Update, February 2005
Dr. Mark McCann Extension Project Leader and Department Head Animal & Poultry Sciences, VA Tech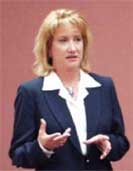 Celeste Crisman joined the faculty of the Animal and Poultry Sciences Department as Extension Equine Specialist on January 17, 2005. She is a native of South Carolina where she was raised on a farm near Hartsville. Her father was president of the former Coker's Pedigreed Seed Company and owner of Coker Cotton Gins that is currently owned and operated by her brother. Celeste attended Clemson University receiving her BS in Animal Science and her MS in Equine Nutrition. Her research focused on the palatability and digestibility of Propionic Acid treated Alfalfa hay for horses. Upon the completion of her degrees, Celeste received a one-year faculty appointment at Clemson University teaching several Equine undergraduate level courses. From 1987-1989, Celeste served as the North Carolina State University Livestock Extension agent in Rockingham County, North Carolina. While there she worked with the livestock producers in adopting herd management practices and was very involved with the local equine community. She was also involved with the 4-H equine programs. In late 1989, a move to Charlotte, North Carolina led Celeste to enter into the Veterinary and Human medical laboratory-testing arena through sales and later into management with Laboratory Corporation of America in Roanoke, Virginia from 1994 through 1999. In 1999, Celeste moved into the Pharmaceutical sales industry where she excelled until the opportunity to return to her agricultural background with Virginia Tech as the Extension Equine Specialist. Celeste's primary focus will be the youth equine programs, but she will also work with equine organizations and adult horse owners. Celeste has maintained her equine interests throughout her career through her personal involvement with horses. Celeste and her husband Mark live in Blacksburg where they raise a few sport horses and cattle.



Visit Virginia Cooperative Extension