You've reached the Virginia Cooperative Extension Newsletter Archive. These files cover more than ten years of newsletters posted on our old website (through April/May 2009), and are provided for historical purposes only. As such, they may contain out-of-date references and broken links.
To see our latest newsletters and current information, visit our website at http://www.ext.vt.edu/news/.
Newsletter Archive index: http://sites.ext.vt.edu/newsletter-archive/

Record Beef Sale At Hokie Harvest
Livestock Update, December 2005
Dr. Dan Eversole Department of Animal & Poultry Sciences, VA Tech

The 2005 Livestock Merchandising Class entertained a spectacular crowd of 850 friends and supporters on Halloween weekend at the 11th Annual Hokie Harvest Sale on Friday, October 28th. There were 23 university horses and 39 head (27 lots) of beef cattle sold concurrently at public auction in the Alphin-Stuart Livestock Arena (horses) and the Livestock Judging Pavilion (beef cattle) to registered buyers from Minnesota, New York, New Jersey, Ohio, Wisconsin, Montana, Massachusetts, Texas, Tennessee, West Virginia, North Carolina, Pennsylvania, Maryland, and Virginia. The beef cattle sale grossed $79,425 (new record) with a sale average of $2,942 with the following breed totals: Angus - $48,375; Hereford - $19,600; Simmental - $5,350; and Charolais - $6,100. The horse sale grossed $84,485 with a sale average of $3,673. This year's sale gross totaled $163,910, which is the second highest grossing sale since the inception of the Hokie Harvest in 1995.
In the cattle sale of four different breeds, Lot 7 topped the bred cow/calf division at $4,325. She is an embryo daughter of Whitestone Widespread and is an exciting performance blend backed by the herd-sire producing Skymere and Rachel families. This four-year-old cow sold to Baer Back Farms of Marshall, VA. Her fancy heifer calf, sired by WAR Alliance 9126 6006, sold to Pioneer Farms of Fairfield, VA.
In the bred cow division, Lot 12 was the sale topper at $4,300 and sold to Jeff Taylor of Pounding Mill, VA. This '01 daughter of GAR Expectation 4915 ranks in the top 3% among current dams for YW (+86) and $B (+39.94) and had a full sister that topped the 2004 Hokie Harvest Sale.
In the yearling heifer division, Lot 15A drew the top bid of $1,900 from Michael Harris from Luray, VA. This royally-bred Hereford female offers low birth with plenty of growth and is sired by the popular VPI Limited Edition J921, a roster member in the Select Sires lineup. This female replacement sells bred to Schular 5N of 9L 3008.
VPI Gridiron 4P38 (Lot 22) topped the yearling bull division at $4,100. This GAR Grid Maker son ranks in the very elite 1% among non-parent bulls for WW, YW, and Milk EPDs. He scanned a 16.3 in2 ribeye muscle at one year of age and has an adjusted YW of 1384 lbs. He sold to Wallens Ridge Farm of Boones Mill, VA.
The top selling horses were Lots 12 and 13, both of which sold for $10,000. La Noche VT (Lot 12) is an Oldenburg bay gelding that possesses a wealth of physical talent including tremendous impulsion and expressive movement that will allow him to achieve great success. Ashley Burnett of Gordonsville, VA bought this young, athletic gelding.
Givenchy VT (Lot 13) drew considerable interest from bidders due to his size (16.1 1/2 hands) and dressage pedigree. This Oldenburg gelding is an uncomplicated fellow with a mind suitable for an amateur and the talent for an open rider. He was purchased by Vicki Troitski of Roanoke, VA.
The 72 students did a marvelous job of preparing for the sale. They gained 'hands-on' experience in sale management, budgeting, cataloging, advertising, livestock photography, clerking, and health requirements. A special thanks is extended to Mr. Jeff Marsh and Mr. Ken Brubaker for serving as auctioneers for the horses and beef cattle, respectively. Students Sam Altizer, Riner, VA; Crystal Reyns, Ashland, VA; and Ben Roudabush, Stuart, VA served as ring people for the beef cattle sale while Zeth Stockner, Galax, VA worked the ring. Bid-takers for the horse sale were Lauren Brittian, Baltimore, MD; Jennifer Dow, Baltimore, MD; Tim Johnson, Coeburn, VA; and Megan Vass, Buchanan, VA. Students who were clerking 'in the block' were Amanda Lickey, Middleburg, VA and Lana Arthur, Woodbridge, VA for the beef cattle and horses, respectively.
The Food and Beverage Committee, with assistance from the Block and Bridle Club in the Department of Animal and Poultry Sciences, served a complimentary BBQ dinner to 775 guests (new record). Their support and cooperation are greatly appreciated.
The response from the 233 registered horse and beef cattle buyers and feedback from the students in the class continue to be overwhelming in favor of hosting another student-managed livestock sale. Plans are currently underway for the 12th Annual Hokie Harvest Sale on Friday, October 27, 2006. We hope to see you there!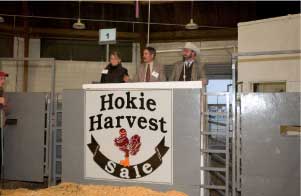 Student Amanda Lickey, Dr. Dan Eversole, and Col. Ken Brubaker prepare for Lot 1 in the Beef Sale.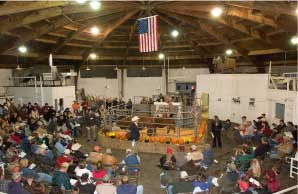 Bidding was active for the three student ringmen.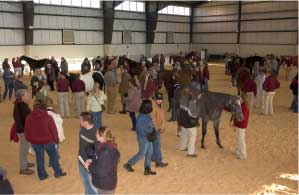 There was considerable interest among buyers during the inspection of horses.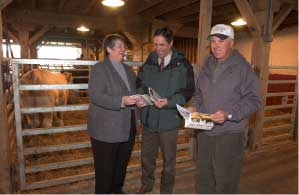 One of the many special guests of the Hokie Harvest Sale was Dean Sharron Quisenberry from the College of Agriculture & Life Sciences.



Visit Virginia Cooperative Extension