You've reached the Virginia Cooperative Extension Newsletter Archive. These files cover more than ten years of newsletters posted on our old website (through April/May 2009), and are provided for historical purposes only. As such, they may contain out-of-date references and broken links.
To see our latest newsletters and current information, visit our website at http://www.ext.vt.edu/news/.
Newsletter Archive index: http://sites.ext.vt.edu/newsletter-archive/

2006 National 4-H Poultry & Egg Conference Results
Livestock Update, December 2006
Curtis Novak, Extension Animal Scientist, Virginia Tech..

The 2006 National 4-H Poultry and Egg Conference was held November 15-16 at the Kentucky Fair and Exposition Center in Louisville, KY. This annual conference allows 4-Hers from all over the country to compete in educational events that help them learn to make and defend decisions, speak publicly, and gain poultry-related skills. This year, 7 individuals represented Virginia in 4 separate events at Nationals. Individuals representing Virginia were state champions in the following mentioned events. A big thank you goes out to our sponsors, Virginia Poultry Federation and Virginia Cooperative Extension, who helped fund our travel to and from Louisville, KY this year in addition to funding for state level events.
The annual 4-H conference included five separate events. In Poultry Judging, participants are required to judge ready-to-cook chicken and turkey carcasses, live production hens and market eggs. In the Chicken and Turkey Barbecuing contests, participants barbecue four chicken halves or two turkey fillets and give an oral presentation on the corresponding poultry industry. An Avian Bowl contest in which contestants are required to answer questions regarding poultry science and the industry was also conducted. Lastly, Egg Preparation demonstration participants prepare an egg dish and give an oral presentation on the nutritional value of eggs. Virginia was represented in all but one (Egg Preparation) contest area this year.
In addition to the above mentioned contest areas, 4-H'ers are encouraged to participate in a number of other activities while at the National event. A Poultry Careers workshop was held exposing 4-H'ers to hands-on information from poultry food industry personnel including pertinent information about career and educational opportunities in poultry food science and industry. In addition, 4-H'ers, coaches, and family were able to tour the Louisville Slugger Plant and Churchill Downs to take their minds off of the contests and see some of what Louisville, KY has to offer.
A total of 259 people (136 senior 4-H'ers and 123 coaches, extension agents, extension specialists and family), representing 25 states, participated at this year's National 4-H Poultry and Egg conference. Team competitions were held in Poultry Judging (18 teams) and Avian Bowl (13 teams), while individuals competed in the Egg Preparation (12) and Turkey (11) and Chicken Barbecuing (11) contests.
This year's Avian Bowl team consisted of Steven Sides (Madison), Matthew Koranek (Madison), Sarah Dye (Culpeper) and Mary Quinn Eakins (Culpeper) and Coach Mrs. Norma Sides. The team placed 3rd this year only defeated by the top two placing teams, California and New York. The team did a great job this year and represented Virginia very well. In one round, Virginia scored a perfect score of 70 which consisted of answering every question correctly including the bonus against the 4th place team, Pennsylvania. Way to go team!
Virginia was also represented in the chicken and turkey BBQ contests this year by Laurel Cox (Greene – Coach David Cox) and Jennifer Good (Rockingham – Coaches Lee Anne Biller and Lena Osborne), respectively. The BBQ events were very competitive this year with a lot of good cooks participating. In chicken BBQ, Laurel placed 11th, while Jennifer placed 6th in Turkey BBQ. Each cook was scored on their BBQ skills, product and presentation and was very competitive in the contest. You both had great products which was enjoyed by a number of people. Great BBQ. Yours was the best in my mind.
Lastly, the Virginia Poultry Judging team consisted of Matthew Koranek (Madison), Theresa Hybl (Culpeper) and Mary Quinn Eakins (Culpeper). The team placed 9th this year in Production Hens. In the Market Poultry division, Virginia placed 3rd with Matthew (gold pin) and Theresa (silver pin) placing 2nd and 5th, respectively as individuals. Theresa also placed 5th (silver pin) in the Market Eggs division. Overall, Virginia placed 8th out of 18 teams represented at Nationals. Individually, Theresa placed 5th overall receiving a gold pin and $100 savings bond, while Matthew placed 13th and received a bronze pin and $50 savings bond. The team was coached this year by Steven Sides whom himself was part of a 4th place team at Nationals in 2003 and did a great job training these individuals.
It was a pleasure traveling to Kentucky with the Virginia Delegation this year. All should be very proud of what you accomplished at Nationals. A select few actually get to Nationals and you represented Virginia exceptionally well. Thank you. Additionally, a special thank you goes out to Matilda and Fanny for their help with this year's teams and events.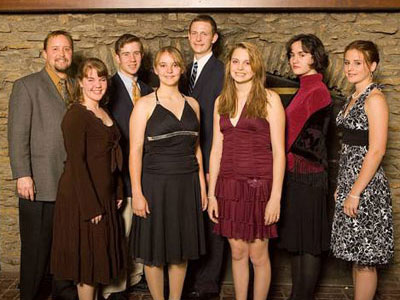 VIRGINIA DELEGATION
(BACK) DR. CURTIS NOVAK, STEVEN SIDES, MATTHEW KORANEK, MARY QUINN EAKINS AND JENNIFER GOOD; (FRONT) THERESA HYBL, SARA SIDES AND LAUREL COX.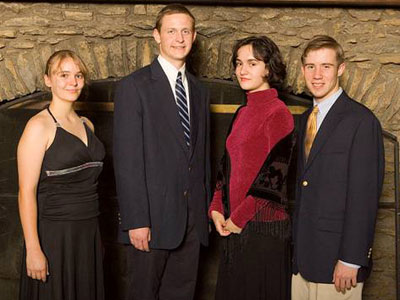 AVIAN BOWL TEAM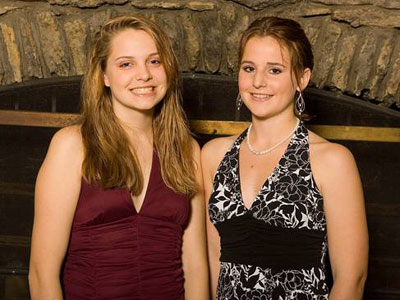 CHICKEN AND TURKEY BBQ CONTESTANTS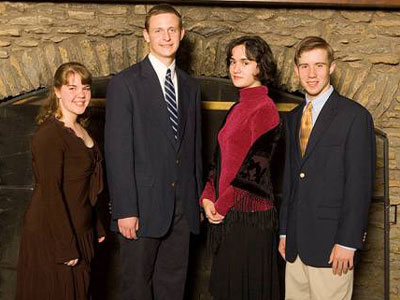 POULTRY JUDGING TEAM AND COACH



Visit Virginia Cooperative Extension