You've reached the Virginia Cooperative Extension Newsletter Archive. These files cover more than ten years of newsletters posted on our old website (through April/May 2009), and are provided for historical purposes only. As such, they may contain out-of-date references and broken links.
To see our latest newsletters and current information, visit our website at http://www.ext.vt.edu/news/.
Newsletter Archive index: http://sites.ext.vt.edu/newsletter-archive/

VQA Sire EPD Specifications Fall 2007- Spring 2008
Livestock Update, October 2007
Dr. Scott P. Greiner Extension Animal Scientist, Beef, VA Tech

The Virginia Quality Assured Program has established a strong reputation as a source of high quality feeder cattle. This favorable reputation has assisted many producers in adding value to their beef enterprise and is the result of several factors, including program standards for animal health, genetics, and best management practices.
VQA Purple Tag requirements include a yearling weight Expected Progeny Differences (EPD) specification for the sire of each calf. Minimum yearling weight EPD standards are breed-specific, and established based on the sire birth year to account for genetic improvement realized over time. The intention of the sire growth EPD specification is provide assurance that calves are sired by bulls that have favorable genetic potential for post-weaning growth performance. Post-weaning growth (ADG in feedyard) is an important determinant of feedyard cost of gain (cost to put on live weight or carcass weight) and profitability. Genetics of post-weaning growth is most effectively managed through sire selection using Yearling Weight EPD.
The following table provides the breed minimum yearling weight EPD requirements for bulls born in Fall 2006 and Spring 2007 (applicable to bulls purchased fall 2007 and spring 2008). Calves sired by bulls with yearling weight EPDs greater than or equal to the minimums published are eligible for the VQA purple tag. In the event a bull does not have a yearling weight EPD, weaning weight EPD is used as the specification. For specifications for bulls born previous to fall 2006, contact your local Virginia Cooperative Extension office or the Virginia Cattlemen's Association.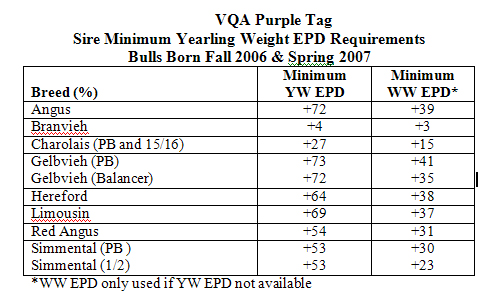 Visit Virginia Cooperative Extension