You've reached the Virginia Cooperative Extension Newsletter Archive. These files cover more than ten years of newsletters posted on our old website (through April/May 2009), and are provided for historical purposes only. As such, they may contain out-of-date references and broken links.
To see our latest newsletters and current information, visit our website at http://www.ext.vt.edu/news/.
Newsletter Archive index: http://sites.ext.vt.edu/newsletter-archive/

The Future of Burial as a Livestock Mortality Disposal Method on Virginia Farms
Livestock Update, December 2007
Dr. Allen Harper, Extension Animal Scientist – Swine, Tidewater AREC

In all types of livestock production, a small but significant proportion of animals will die at the farm level before being marketed. If we use swine farms as the example, one major U.S. records database indicates that pre-weaning pig mortality rates range from 8 to 17 %, post-weaning pig mortality rates range from 2 to 7 %, and breeder sow mortality rates range from 4 to 16 % (Olson, 2005). For reasons related to human and animal health, environmental protection, and aesthetic concerns, effective methods of disposing of these routine mortalities are essential. Routine mortality disposal is important regardless of farm size but, as individual farms have become more specialized and larger in size, the issue of routine mortality disposal has received increased public concern and regulatory scrutiny.
Traditional on-farm mortality disposal methods have included burial, incineration, transport to rendering plants, and more recently, composting. The accompanying table summarizes advantages and disadvantages for these methods of dead animal disposal. Mortality composting was initially developed as a means of disposing of dead birds on poultry farms, but when performed properly, is now considered an effective disposal method for larger animal carcasses as well. Virginia Cooperative Extension publication 414-020 provides general guidelines for composting small and large swine mortalities and these general principles can be applied to other livestock species.
At this time burial as a livestock mortality disposal method is receiving greater regulatory and public scrutiny. The disposal method has probably been around as long as livestock production itself. An old entry in item 18.2-510 of the Virginia State Code makes direct reference to burial by stating that owners must perform "burial or cremation of animals or fowls which have died." However, this law, originally written in the 1950's, does not acknowledge that now the burial of waste is regulated by the Virginia Department of Environmental Quality (DEQ) and permits for burial of waste materials including animals are required. Indeed at recent livestock producer meetings dealing with waste management, it was indicated that as the regulation now stands, even the burial of companion or pleasure animals such as pets and horses falls under the DEQ permit requirements.
In a review of technical information, Engel and colleagues (2004) concluded that livestock mortality burial had the potential for undesirable environmental impacts on water and air quality. But others have raised the point that burial of smaller quantities of animal mortality in appropriately selected sites is unlikely to pose environmental risk. At producer meetings around the state, technical and regulatory representatives have indicated that the solid waste regulations and how they impact livestock producers are due to be reviewed in the months ahead. They encourage input from livestock producers and related service people. Those who have opinions to share on the issue are encouraged to do so by writing the Department of Environmental Quality using electronic or regular mail. The appropriate DEQ contact is: Ms. Karen Sismour, Waste Division Director, Virginia Department of Environmental Quality, P.O. Box 1105, Richmond, VA 23218 (email: ksismour@deq.virginia.gov).
Advantages and Disadvantages of Routine Livestock Mortality Disposal Methods in Virginia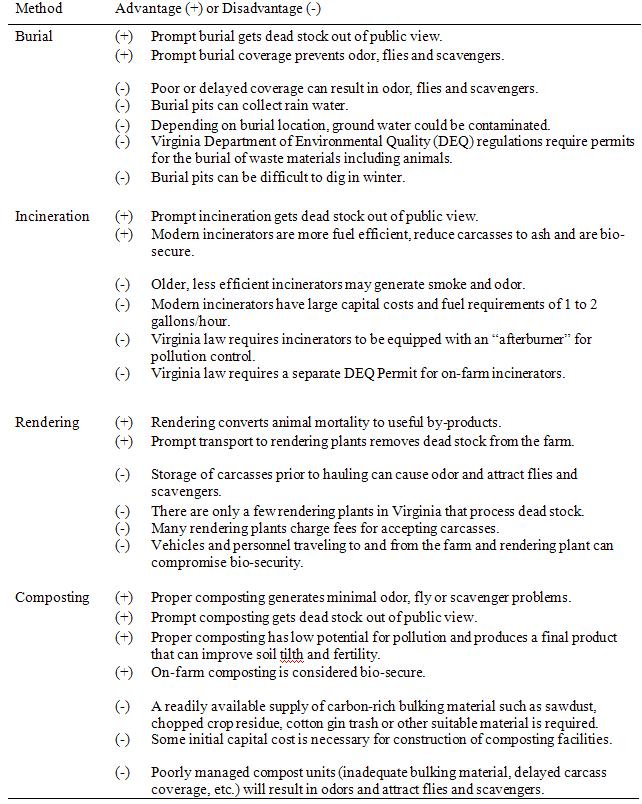 Visit Virginia Cooperative Extension