You've reached the Virginia Cooperative Extension Newsletter Archive. These files cover more than ten years of newsletters posted on our old website (through April/May 2009), and are provided for historical purposes only. As such, they may contain out-of-date references and broken links.
To see our latest newsletters and current information, visit our website at http://www.ext.vt.edu/news/.
Newsletter Archive index: http://sites.ext.vt.edu/newsletter-archive/

Sheep Update
Livestock Update, March 2008
Dr. Scott Greiner, Extension Sheep Specialist, VA Tech

Entries Available for 2008 Virginia Ram Lamb Performance Test
Nominations are currently being accepted for the 2008 Virginia Ram Lamb Performance Test to be conducted at the Virginia Sheep Evaluation Station located at the Shenandoah Valley Agriculture Research and Extension Center near Steeles Tavern. Rams will be delivered to the test station April 29, and after a two week adjustment period, will be performance tested for 63 days. In addition to measurement of growth performance, rams will be evaluated for carcass traits with ultrasound during the test, and DNA genotyping will be conducted for spider syndrome and scrapie resistance. Eligible rams will sell on August 23, 2008. Rams born September 1, 2007 to February 29, 2008 are eligible. For rules and regulations, as well as entry forms contact Scott Greiner at 540-231-9163.
Virginia Performance Ram Lamb Test and Sale Expense Summary 2005-2007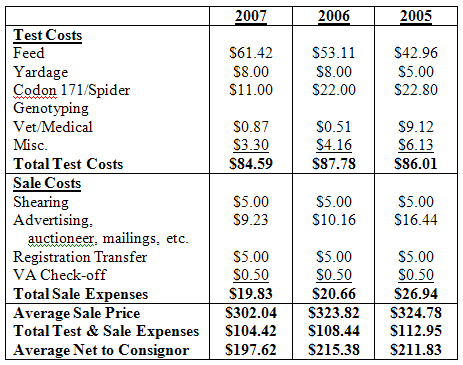 Visit Virginia Cooperative Extension