You've reached the Virginia Cooperative Extension Newsletter Archive. These files cover more than ten years of newsletters posted on our old website (through April/May 2009), and are provided for historical purposes only. As such, they may contain out-of-date references and broken links.
To see our latest newsletters and current information, visit our website at http://www.ext.vt.edu/news/.
Newsletter Archive index: http://sites.ext.vt.edu/newsletter-archive/

Incentive Programs for Enhancement of Environmental Stewardship on Virginia Hog Farms
Livestock Update, March 2008
Dr. Allen Harper, Extension Animal Scientist – Swine Virginia Tech Tidewater Agricultural Research & Extension Center

Introduction
As early as the 1980's, nonpoint source pollution associated with agricultural production was identified as a substantial contributor to water quality problems in the U.S. (EPA, 1984). Since then, the problem has been addressed through several important means including: 1) producer driven education and stewardship programs, 2) increased federal and state environmental regulation of agriculture and 3) through government incentive programs to promote adoption of agricultural practices that minimize environmental risk. Incentive programs usually involve federal or state funding and consequently have been criticized by some (Lancaster, 2001). However, the basic intent of incentive programs is directed toward the greater public good. That is, to allow farmers to continue to produce food safely and abundantly while assisting them in meeting new environmental expectations and regulations.
This paper provides a brief overview of incentive programs that have potential relevance to Virginia swine producers. By necessity the descriptions will be general and involve selected examples, because incentive program opportunities vary by location and change frequently. Emphasis will be on identifying sources of potential incentive programs and where to go for details and assistance.
Virginia Soil and Water Conservation Districts
Local Soil and Water Conservation Districts (SWCD) are established throughout the Commonwealth by state law. There are a total of 47 SWCDs throughout the state, some of which are comprised of a single county while others consist of several counties and independent cities (Figure 1, Table 1). Programs and functions at each SWCD vary, but the primary mission of each is to provide local "grassroots" direction for protection of Virginia's soil and water resources through coordination of conservation programs. Each SWCD has a Board of Directors consisting of elected or appointed members who guide local policy, and a paid technical and administrative staff as well.
Contacting the local SWCD is a logical first step for a swine producer (or any farmer) investigating potential environmental incentive programs for their farm. The SWCD is usually responsible for setting conservation practice and funding priorities at the local level. In addition the local SWCDs work in close coordination with state and federal agencies that provide funding and technical direction for most incentive programs available. Specifically, these include programs offered by the Virginia Department of Conservation and Recreation (DCR) and the USDA Natural Resources Conservation Service (NRCS). Indeed many local SWCD offices are located with or near DCR and(or) NRCS staff offices. Working with the local SWCD initially can help a producer determine which incentive programs, state, federal or both, hold the greatest potential for improving their operation.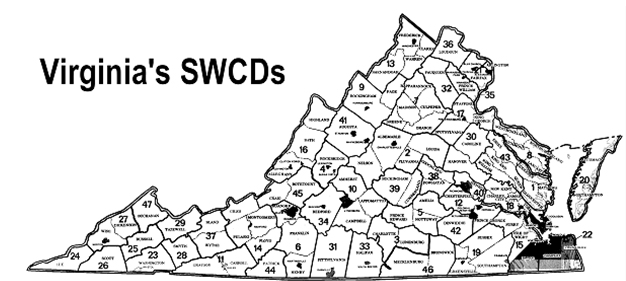 Figure 1. Virginia Soil and Water Conservation Districts (see table 1 for specific SWCD names, contact numbers and localities served).
Virginia Agricultural Best Management Practice State Cost-Share Program
Agricultural best management practices or BMPs may be broadly defined as farm management practices that prevent nonpoint source pollution or negative environmental impact while still allowing for efficient production. Within local SWCDs cost-share incentives may be available to assist swine producers in the implementation of BMPs. State funds for the BMP cost-share program are targeted toward problem areas. As a consequence funding availability varies based on higher priority BMPs within higher priority SWCDs. Stated another way, the funding available for state BMP cost-share programs is directed toward specific BMPs and watersheds where it is predicted to have the greatest impact for soil and water protection. A state BMP advisory committee has the responsibility of recommending the technical language that describes specific BMPs and which practices get approved for cost-share. Representation on this committee includes DCR staff, NRCS staff, SWCD representatives, Virginia Department of Forestry, Virginia Department of Environmental Quality, as well as agricultural and commodity group representation. Final approval of BMP practices and cost-share provisions rests with the state director's office of DCR.
Full descriptions of current state BMPs including those eligible for cost-share application are available within the Virginia DCR website (http://www.dcr.virginia.gov/). Some have obvious application to hog farms while others do not. Some example BMPs with cost-share or state income tax credit potential for hog farms are briefly discussed as follows.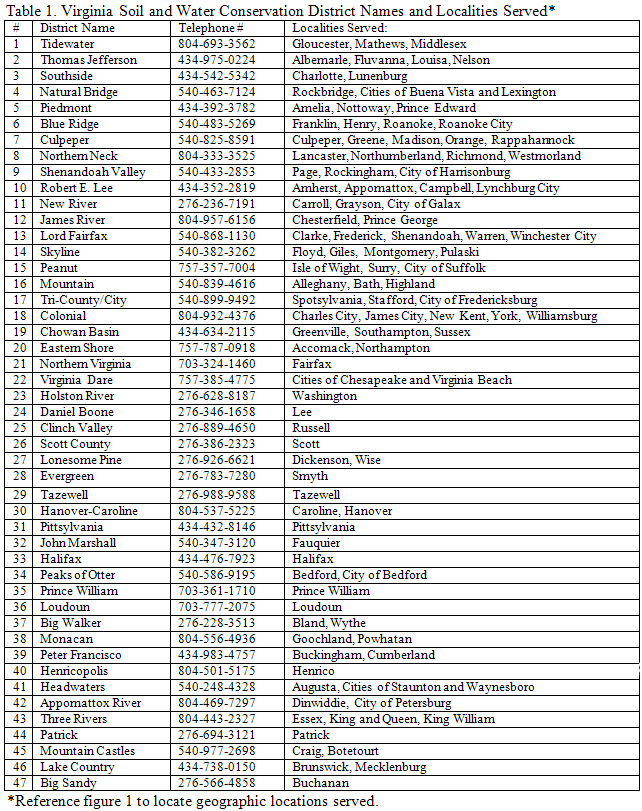 Animal Waste Control Facilities – DCR Specification WP-4. In the DCR on-line document this BMP is described as "a planned system designed to manage liquid and solid waste from areas where livestock and poultry are concentrated." Cost sharing and tax credit may be approved for the BMP, but these are limited to solving manure management problems where a particular operation can show they have access to land for appropriate planned application. It is only intended for existing operations, not for start-up situations. This particular BMP is not intended for pumping or manure transfer equipment. As implied this BMP is directed toward making an existing manure management system more effective. State cost-share alone or in combination with any other cost-share program will not exceed 75% of the total BMP cost and maximum state payment will not exceed $50,000 per landowner per year.
Composting Facilities – DCR Specification WP-4C. This BMP is described as "a planned system designed to manage treatment and disposal of poultry and swine carcasses resulting from normal mortality" with a purpose of improving water quality by composting carcasses and spreading the composted material at the proper time, rate and location. Both cost-share and tax credit may be approved for composting facilities that will contribute significantly to maintaining or improving soil or water quality. An example situation would be installation of a mortality composting system that allows the operation to eliminate burial as a means of routine mortality disposal. A mortality management composting plan must be followed carefully. State cost-share alone or in combination with any other cost-share program will not exceed 75% of the total BMP cost and maximum state payment will not exceed $50,000 per year for the construction or purchase of composting facilities.
Animal Mortality Incinerator Facility – DCR Specification WP-4F. Cost share and tax credit programs may be available for a "planned mortality incineration system to dispose of poultry and livestock carcasses resulting from other than catastrophic disease." The conditions and expectations that apply to the composting facilities BMP also apply to the animal mortality incinerator BMP. Most notably an identified water quality issue must be addressed such as the need to replace burial as the method of routine dead pig disposal. The incinerator unit must meet local, state and federal regulations. In Virginia that means obtaining a Department of Environmental Quality (DEQ) permit and the unit must be equipped with a secondary burn chamber, also called an "after-burner." State cost-share alone or in combination with any other cost-share program will not exceed 75% of the total eligible cost of the animal mortality incinerator only. The maximum state payment will not exceed $50,000 per year (unless further limited by local SWCD practice caps).
Nutrient Management Plan Writing and Record Keeping – DCR specifications NM-1 and NM-2. It has been recognized that in some instances there may not be enough technical staff at DCR to serve all producers to write and implement nutrient management plans (NMP). The state cost-share incentive program recognizes this and has made some cost-share funding available to hire private NMP writers who have been certified by DCR. Since manure management on swine farms is closely tied to manure application rates that are in accordance with a NMP, this cost-share opportunity may apply to some swine producers. A fixed payment rate per acre is set. Tax credit is not available for these practices.
Tax Credits for BMPs. As indicated some agricultural BMP practices may qualify for cost-share and for state tax credit. State tax credits on certain approved BMPs became available in 1998. If approved for a given practice, agricultural producers with an approved conservation plan can take a credit against state income tax of 25% of the first $70,000 spent on BMPs. The amount of the tax credit cannot exceed $17,500 or the total state income tax obligation. The producer has up to 5 years to use the approved tax credit. Example state BMPs with tax credit approval that may have application to Virginia swine producers include:
Animal Waste Structure Pumping Equipment (WP-4E) (tax credit only, not cost-share)
Animal Waste Control Facility (WP-4)
Composting Facilities (WP-4C)
Animal Mortality Incinerator Facilities (WP-4F)
Soil testing in Support of a Nutrient Management Plan (WP-4D) (tax credit only)
Relocation of Confined Feeding Operations from Environmentally Sensitive Areas (WP-8) (tax credit only)
Other Potential State Cost-Share Programs. In most cases Virginia swine producers own or lease agricultural land and are engaged in other farming practices such as crop and forage production. Typically, this is an essential component of the overall operation as manure application and nutrient utilization depend on production of agronomic crops. Consequently some state cost-share programs directed toward improved soil and water stewardship by land owners and crop producers may have application to swine producers. One such program receiving significant interest is the conservation reserve enhancement program or CREP (DCR specification numbers CP-21, 22, 23, 29). The CREP program may be viewed as an enhancement to enroll land in the federal conservation reserve program (CRP) which provides payments to take environmentally sensitive land out of production. Examples include grass filter strips along field borders, riparian forest buffers, wetland restoration and wildlife habitat buffer zones. Producers should contact their local SWCD district or the on-line BMP program manual on the DCR website to determine eligibility and details. Examples of other state cost-share possibilities related to crop production include side dress application of nitrogen to corn (NM-3), organic nutrient application to corn using pre-side dress nitrogen tests (NM-3B) and late-winter split application of nitrogen on small grain (NM-4).
Virginia Agriculture BMP Loan Program
In 1999, a Virginia agricultural BMP loan program was established through legislative amendment of the Virginia Water Facilities Revolving Fund. Low-interest loans may be available from the fund to producers for the construction of facilities to implement agricultural BMPs that prevent negative impacts to state waters. Producers will be considered for any eligible BMP low-interest loan whether or not they choose to participate in any other state or federal agricultural assistance program. The BMPs eligible for the low interest loan program are identified at local SWCD and within the on-line BMP manual on DCR's website. Example BMPs eligible for the loan program applicable to swine producers include:
Animal Waste Structure Pumping Equipment (WP-4E)
Animal Waste Control Facility (WP-4)
Composting Facilities (WP-4C)
Relocation of Confined Feeding Operations from Environmentally Sensitive Areas (WP-8)
The agency providing administrative management of the agriculture BMP loan program is the Virginia Department of Environmental Quality (DEQ). The website address http://www.deq.virginia.gov/cap/aghome.html provides details of the program and lists all eligible BMPs. The DEQ contact person is Mr. Van M. Gallier, Construction Assistance Program, Dept. of Environmental Quality, P.O. Box 1105, Richmond, VA 23218; telephone 804-698-4243; email vmgallier@deq.virginia.gov.
Federal Incentive Programs
In addition to the state incentive programs described, swine producers have access to and may qualify for, certain federal incentive programs. The most notable federal program is the Environmental Quality Incentives Program, commonly referred to as EQIP. This program, originally established with the 1997 U.S. Farm Bill, was substantially modified in the 2002 Farm Bill to increase funding availability. A variety of practices are approved, a number of which are directed toward animal waste management including mortality disposal. In some instances USDA Federal programs such as EQIP may be coupled with state cost-share programs, potentially reducing the landowner's direct costs to install the BMP to a greater degree than either program alone. In the current year most regular EQIP practices in Virginia were designated at a 50% cost-share rate, but practices related to animal waste management were designated at a 75% rate. Example EQIP practices that may have application to hog farms are presented in Table 2.

Technical and administrative responsibility for EQIP funding lies with USDA-NRCS. Producers should make inquiries to their local USDA-NRCS office. A point and click directory of local offices can be found on-line at http://www.va.nrcs.usda.gov/. The NRCS offices are typically housed with other USDA agency offices at local USDA service centers.
Funding Cycles and Funding Availability
When researching potential cost-share or other incentive programs it is important to make contact with the appropriate representatives at local SWCDs and NRCS offices. The opportunities are dynamic and subject to change because funding cycles and fund availability vary. In some cases the local offices have specified sign-up periods and producers must apply for incentive programs within a given time span. Local SWCD Boards can alter practice priorities and cost-share funding caps within a given district. For example many local SWCDs in the southeast region of the state have set local cost-share caps at $20,000 per landowner per year. Funding also varies from year to year depending on state and federal budget situations. It is unknown at this time, but state funds for BMP cost share programs are expected to be down in 2008-2009 because Virginia's state revenues are expected to be down in 2008. A similar situation applies to federal programs. Congress is expected to write and pass a new farm bill in 2008, but until that happens, it is difficult to predict changes in EQIP practices and funding for the year ahead.
Summary
Government supported agricultural incentive programs to reduce nonpoint source pollution have been around since the 1980's. Generally the programs are intended to allow farmers to continue to produce food safely and abundantly while assisting them in meeting new environmental expectations and regulations. Like all farmers, hog producers should make themselves aware of incentive program opportunities that may be available to them, consider their merit and take advantage of those they determine to be appropriate for their operation. Depending on the incentive source (state or federal), practices that have been considered by hog producers include animal waste control facilities, manure transfer and application equipment including pumps and piping, mortality composting facilities, mortality incineration units, private nutrient management plan writing and record keeping, waste storage system demolition, and relocation of animal feeding operations to less environmentally sensitive areas. Other programs apply less directly to swine management, but may have application for swine producers involved in production of agronomic crops and forages.
State BMP cost share programs in Virginia are managed at the local level through 47 SWCDs across the state. Virginia DCR sets up technical descriptions of the BMPs and local SWCDs are allocated funds, set local BMP priorities, funding limits and determine applicant eligibility. Depending on the BMP, direct cost-share, tax-credit and(or) low-interest BMP loans may be available. Federal incentive programs affecting swine producers are most likely to come through EQIP or the Environmental Quality Incentives Program administered by USDA-NRCS. In some cases state cost-share BMPs can be approved in conjunction with a Federal incentive program to further reduce direct cost to the producer.
References
EPA. 1984. Ruckelshaus pledges continued support of the Chesapeake cleanup. Environmental Protection Agency press release, Dec. 13, 1984; http://www.epa.gov/history/topics/water/03.htm (last update Sept. 21, 2007).
Lancaster, J. 2001. For big hog farms, big subsidies. Washington Post, Aug. 17, 2001, pp.A01.
Other websites cited:
USDA Natural Resources Conservation Service: http://www.va.nrcs.usda.gov/
Virginia Department of Conservation and Recreation: http://www.dcr.virginia.gov/
Virginia Department of Environmental Quality: http://www.deq.virginia.gov/cap/aghome.html



Visit Virginia Cooperative Extension