You've reached the Virginia Cooperative Extension Newsletter Archive. These files cover more than ten years of newsletters posted on our old website (through April/May 2009), and are provided for historical purposes only. As such, they may contain out-of-date references and broken links.
To see our latest newsletters and current information, visit our website at http://www.ext.vt.edu/news/.
Newsletter Archive index: http://sites.ext.vt.edu/newsletter-archive/

Virginia Tech Beef Extension Introduces New Web Site
Livestock Update, June 2008
Scott P. Greiner, Ph.D., Extension Beef Specialist, VA Tech

The Virginia Tech Beef Extension Team would like to introduce their new Extension and Education Web site. This site was developed to help beef producers; extension agents and industry find relative up-to-date information concerning the beef industry.
The site features the various Beef Programs for the Virginia Tech Extension Department available for all producers to participate in, as well as the latest news, and links to other parts of the industry.
The web site address is www.vtbeef.apsc.vt.edu.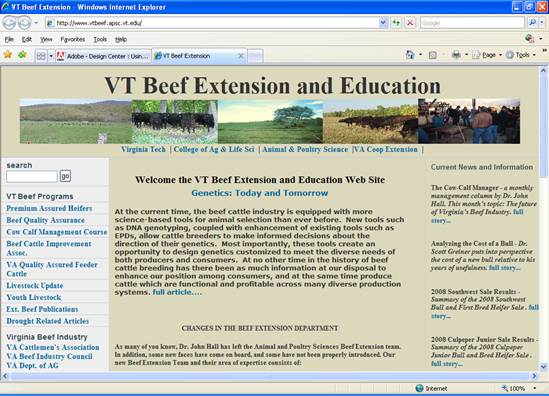 The site is still in its development phases. We would appreciate any constructive criticism that you would have to improve the site.
Please feel free to contact the web master at vtbeef@vt.edu. For more questions or concerns, please call 540-231-2257.



Visit Virginia Cooperative Extension