You've reached the Virginia Cooperative Extension Newsletter Archive. These files cover more than ten years of newsletters posted on our old website (through April/May 2009), and are provided for historical purposes only. As such, they may contain out-of-date references and broken links.
To see our latest newsletters and current information, visit our website at http://www.ext.vt.edu/news/.
Newsletter Archive index: http://sites.ext.vt.edu/newsletter-archive/

Beef Management Tips: Virginia vs. U.S. Prices
Livestock Update, May 1999
Bill McKinnon, Animal and Poultry Sciences, Virginia Tech

The feeder cattle sales sponsored by local feeder cattle associations in cooperation with the Virginia Cattlemen's Association have a long and rich history. The sales annually market over 120,000 feeder cattle. The sales also price many more cattle which trade on a private treaty basis using graded sale prices a means of price discovery. When the prices received for these Virginia cattle are compared to other cattle around the country, the comparison is favorable. The graph below compares prices received in the fall of 1998 for 500-599 L&M1 steers against a price series for 5-weight steers compiled by the Cattle-Fax organization. The Cattle-Fax series is calculated average from over 20 states and is weighted toward states with large cow/calf populations.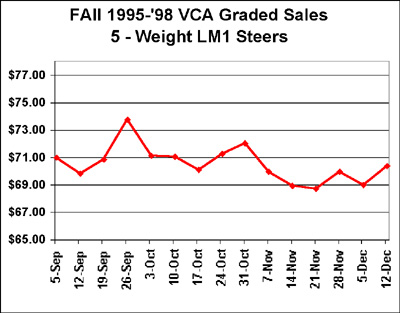 It is interesting to note the similar mid-October price slump in the national average that typically takes place in Virginia. When the prices for the two price series are averaged, there is less than $.01 per hundredweight difference between the two. This comparison speaks well for the VCA sold calves; given that Virginia is a $4.00 to $5.50 per hundredweight haul farther from the major feeding regions of the country than the majority of the calves. The Virginia calves are also sold on an "in-weight" basis while other regions of the country sell on "out-weights" which are typically 3% lighter than graded sale weights straight from the grading pen.

Visit
Virginia Cooperative Extension