You've reached the Virginia Cooperative Extension Newsletter Archive. These files cover more than ten years of newsletters posted on our old website (through April/May 2009), and are provided for historical purposes only. As such, they may contain out-of-date references and broken links.
To see our latest newsletters and current information, visit our website at http://www.ext.vt.edu/news/.
Newsletter Archive index: http://sites.ext.vt.edu/newsletter-archive/

Viticulture Notes
Vineyard and Winery Information Series:
Vol. 17 No. 5, September-October 2002
Dr. Tony K. Wolf, Viticulture Extension Specialist

Table of Contents
I. Current situation

III.Decontaminating and storing vineyard sprayers

V.Virginia grape price survey - 2002:
I. Current situation
We are still harvesting Cabernet Sauvignon and Norton at Winchester at this writing, but for most, the harvest is complete. Our hot, dry years have been some of our best, and the 2002 season will be no exception. Generally, rains held off until after harvest of the more rot-prone whites. Fruit quality and the preliminary analysis of data from our Chardonnay clone evaluations, our training system comparison, and our crop level studies are very encouraging. We will review our research results at the technical conference planned for February 2003 (see upcoming meetings).
I'm compelled to comment on the current economic plight of the Commonwealth and the impact this is having, and will continue to have, on Virginia Tech's agricultural programs, including the viticulture effort. If you're a Virginia resident, you are no doubt aware that Virginia's economic situation is bleak. Governor Mark Warner stepped into a $3.8 billion shortfall when he assumed office in January. Although the budget was balanced during the 2002 General Assembly, the continued decline of revenues led to a further $1.5 billion shortfall estimate by late-summer. State agencies, including higher education institutions (including Virginia Tech), were asked to propose additional cuts of 7, 11, or 15% for the next biennium. The executive office reviewed those proposals in light of their potential impact and formulated decisions on further cuts which were released in concert with the Governor's publicized speech on 15 October. The Governor's speech and his detailed budget reduction measures, by agency, can be found at the Governor's web site (http://www.governor.state.va.us/index.html).
The budget cuts to Virginia Tech and Virginia Cooperative Extension were significant and will be tangible to those served by and employed by these agencies. Virginia Tech's overall reduction in state funding for the FY 2003-2004 biennial period is 12.4%, or $36.6 million. Increased tuition fees will recover some of this cut; however, Virginia Cooperative Extension (VCE) has no comparable revenue stream, and the cuts will be more painful for those who have been served by VCE. Specifically, the Governor's plan accepted the proposal to:
close 8 extension offices and eliminate 43 extension agent and faculty specialist positions and 29 staff support positions,
reduce agricultural research by $1.5 million in FY 2003 (this year), and $2.3 million in FY 2004,
close two Agricultural Research and Extension Centers and eliminate 12 research faculty and 38 laboratory positions, and
eliminate 26 central administration faculty and classified staff positions.
The AHS Agricultural Research and Extension Center, where I'm based, saw its operational funds slashed from about $140,000 last year to about $84,000 this year. In addition, the Alternative Severance Option, offered to state workers earlier this year, prompted our Director and tree fruit specialist, Ross Byers, to take an early retirement this past July. A certain amount of my time has been devoted to Center activities, and this involvement will likely increase in the future. We have also sought to decrease our operational expenses, including removal of half of the light bulbs from 4-bulb fixtures, shutting off the air conditioning and heating since August, and reducing discretionary spending on research supplies, wage support and travel. Unfortunately, these measures will be unlikely to keep us from exceeding our reduced operational funds by next summer. You may feel the effects of these cuts either directly or indirectly. We will continue to offer educational programs and services. Our sponsored research activities will continue, although we are losing some of the discretionary funds that in the past could be used to support research projects or graduate students out of sync with the normal funding cycles. You may see (further) delays in obtaining one-on-one service from here or from local Cooperative Extension offices. This is, in fact, only a partial accounting of our economic woes, and the situation may certainly worsen in that additional cuts may be forthcoming in December.
On the positive side, our sponsored research dollars, funded by the Virginia Winegrowers Advisory Board, the Viticulture Consortium, the North Carolina Grape Council, and others, remain intact and functional. Discretionary funding, which is important in meeting unplanned expenses, supporting graduate students, or purchasing equipment outside of normal grant funding cycles, has been hit harder. But here too there are bright spots. For example, I'm pleased to acknowledge the recent, unrestricted gift of $2,000 from the DeVink Foundation in support of our grape research and extension efforts. Again, this kind of unrestricted gift allows us to direct resources to problems, issues, and opportunities that arise outside of normally sponsored research projects. If you've ever considered gifting to specific Virginia Tech programs, the timing could not be more opportune.
No doubt we will eventually emerge from this dire economic situation, but that recovery is not expected to be rapid nor complete in the sense of resources and personnel available just a year ago. Please stay tuned, and be patient and understanding.
Return to Table of Contents
II. Introducing Pat Peacock: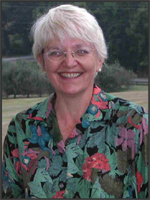 Ms. Patricia Peacock was hired as viticulture extension assistant at Winchester in early September. Funding for this position was provided by the Virginia Winegrowers Advisory Board which, so far, has been spared the budget cuts discussed above. Previous assistants have included Alison Hectus, Imed Dami, and Eric Capps. Pat had been employed on a part-time basis with us at Winchester and was responsible for doing much of the dormant pruning of vines during the previous winter. She has Masters degrees in public administration and fisheries science, and a varied employment record that includes natural resource management, fisheries research, science editing, legislative lobbying, in addition to her viticulture experience. As with our previous viticulture assistants, Pat is now in the process of familiarizing herself with Virginia viticulture. She will ultimately be responsible for providing information to clients who request basic grape production information, assisting with meeting logistics, and contributing to written publications, including the web-based resources. Pat can be reached at 540-869-2560 x11, or ppeacock@vt.edu.

Return to Table of Contents
III. Decontaminating and storing vineyard sprayers
Contributed by Dr. Andrew Landers, Cornell University, NYSAES, Geneva, NY

Vineyard sprayers must be thoroughly decontaminated, inside and outside, after use. Regular maintenance of spraying equipment will prolong its life and ensure accurate trouble-free operation, enabling spraying to be done with the minimum loss of time and taking full advantage of favorable weather conditions.

NOTE: Read the sprayer manufacturer's instructions before beginning to wash out a sprayer. Wear protective clothing appropriate to the pesticide which has been used, this may include an apron, rubber gloves, boots and face shield.

It is important to clean everything thoroughly, associated equipment such as mixers, the site where filling and mixing is done, and, of course, yourself.

Disposal of pesticide waste: REMEMBER cleaning up should be done in such a way that washings DO NOT enter public sewers or any water courses, nor fields which have under-drainage and certainly not catchment areas for wells.

The safe disposal of pesticide waste is a serious responsibility for sprayer operators. It is important, therefore, that everything should be done to keep to a minimum the amount of waste generated. Remember pesticide waste is of four types: Concentrated products, diluted pesticides, including washings, empty containers and contaminated clothing and other materials.

Try to keep the volume of tank washings produced to a minimum. Special low volume, inexpensive washing systems are now available which comprise spinning nozzle(s), mounted in the tank. The device can be connected to a hose or water tank and water, after it has passed through the rotating nozzle(s) cascades down the inside of the tank walls.

Preparation for storage: Sprayer decontamination is detailed in the pesticide application section of the NY and PA Pest Management Recommendations for Grapes published by Cornell and Penn State Cooperative Extension but an overview is as follows:
Any spray liquid or contamination left in the tank should be disposed of correctly.
Remove tank drain plugs or open drain cock.
Hose down inside the tank and outside, including the tank top, scrub where necessary or use a special low volume washing system.
Replace drain plug.
Remove suction, main and in-line filter elements; wash them thoroughly in clean water with a soft brush and replace.
Remove nozzles, nozzle filters and nozzle manifold end-caps if they are fitted. Soak them all in a bucket of water with appropriate cleaning agent recommended for the cleaning of spray machinery. Scrub clean with a soft brush.
Partially fill the tank and pump out to flush all parts. Ensure you open/close valves during the flushing procedure to clean out crevices. Do this more than once if necessary.
Refill the tank with clean water or a recommended cleaning agent, there are about a dozen commercial tank cleaners designed to remove or neutralize most of the modern low rate chemicals. If no cleaning agent is recommended, one gallon of household ammonia per 50 gallons of water may be used. Do not use chlorine-based cleaners such as Clorox. Recirculate for 15 minutes, then pump a quantity through the pipes and spray bars. Leave the remainder for as long as practicable, overnight if possible.
Discharge at least one quarter of the contents of the tank through the system and spray bars. Drain off the rest.
Check that no deposits remain in the tank or filters. If there are any, they should be hosed down and scrubbed off.
Repeat steps 8 to 10 using clean water with the appropriate cleaning agent.
Safely store nozzles and filters, leave valves open and the tank lid loosely closed. Ensure that the sprayer is completely empty of water, particularly the pump. If you are unable to completely drain the system, you may consider using an antifreeze solution. An environmentally safe anti-freeze diluted to 50% may be acceptable, alternatively, RV antifreeze may be used but remember it can't be diluted and so make sure the system is drained of water. Currently RV antifreeze costs $2.00 ­ 2.50/gallon from stores such as Wall Mart etc.
Hose down the outside of the sprayer, scrubbing if necessary.
Ensure the sprayer is parked safely and securely
Wash down waterproof protective clothing, apron, boots and face shield.
Wash inside and outside of gloves with soap and water; rinse and dry them.
Finally thoroughly wash hands, face and neck with soap and water.
Mechanical maintenance: Lubrication must be carried out prior to storage, check oil levels in the pump. Check the soundness of all mechanical components. Electrical connectors which operate control valves, spray monitors etc need to be cleaned and a non-conductive grease, available at an auto store, applied to prevent corrosion. Check wheels, wheel bearings and tire inflation.
Storage of sprayers: Store the sprayer under cover, taking care to prevent dirt and moisture affecting the tank or working parts. Remember, sunlight softens and weakens rubber materials and can degrade plastic materials. Storing in a building also allows you the opportunity to conduct any routine or pre-season maintenance.
Return to Table of Contents
IV. Question from the field
Q: (actually, this is one of several asked this year about aerial phylloxera. The written question came in late in the season, and the answer will serve the uninitiated for 2003 and beyond).

I've got a bit of what's been identified by locals as foliar phylloxera -- in Viognier and maybe a bit in Cab Franc. These are second-year vines, on SO4 and 5BB rootstock. I only noticed galls in late-summer, on 1 to 5% of vines. I did not observe galls on first-year vines. I would appreciate your views on what, if anything, to do about it. Specifically, would it make sense to go and cut out those leaves/shoots/cordon sections and take them away to prevent further spread?

A: (Provided by Dr. Doug Pfeiffer, Virginia Tech grape entomologist). Photos and a description of grape phylloxera can be found at: http://www.ento.vt.edu/Fruitfiles/phylloxera.html

I don't think it would be worthwhile trying to remove infested tissue. I think the problem merits treatment mostly at the time you are trying to get vines to grow and fill their space (young vines). Highly galled leaves cause shoot growth to stop, and could pose a problem to such young vines. More work needs to be done on the economic importance of foliar phylloxera. This year we have added Danitol for phylloxera control, in addition to Thiodan [Thionex, or endosulfan]. Keep in mind that Danitol is very damaging to populations of vineyard predators of mites. Although this product controls mites as well, this is not likely to be a long-term control, and you may face a resurgence of mites. Whichever product you might choose, it is important to time sprays to periods of crawler activity. These young nymphs can easily be seen in galled areas; their bright yellow bodies show up well using a hand lens. I have some ideas of additional materials that might provide control of foliar phylloxera, but we have no efficacy data. If I find a predictable site for a population, it would be good to perform a spray trial in the future.

T.K. Wolf's addition: For established vines, once shoots produce from 12 to 15 leaves, the galling of more distal leaves will likely have minimal impact on otherwise well managed, vigorous vines. However, I have seen severe galling, that required insecticide intervention, on some hybrids, notably Vidal, Seyval, and Chambourcin. Chambourcin is sensitive to endosulfan, and a photo of the phytotoxic reaction of leaves is presented in the Grape Disease Compendium.

Return to Table of Contents
V. Virginia grape price survey - 2002:
At the request of a number of winery personnel and independent grape producers, we issued a grape price questionnaire to 62 Virginia wineries in late-September. The winery owners/operators were asked to provide data on prices paid for grapes in 2002, if grapes were purchased from vineyards not directly associated with or owned by the winery. The results of this survey are provided in Table 1 for 10 varieties. We've included data only where three or more responses were obtained for a given variety. The data are based on 23 responses (38% response rate). We extend our sincere appreciation to those who took time to respond to our survey and we respect the decision by others not to respond. It is hoped that the results provide new and aspiring growers with a basis for estimating potential vineyard returns. We quickly point out, however, that the data of table 1 have no direct relationship to the quality of grapes sold, and that the "average" price noted does not necessarily mean "average" fruit quality. Nor should a grape seller interpret the "maximum" price as a market-driven point that s/he should negotiate towards. Note that the average price lies closer to the minimum than to the maximum.

Table 1. Prices ($US/ton) paid for Virginia grapes in 2002, as reported by 23 of 62 polled Virginia wineries.
Price per ton ($)
Minimum
Maximum
Average
Number reporting
Cabernet Franc
1,200
2,000
1,461
10
Cabernet Sauvignon
1,150
2,000
1,484
11
Chambourcin
575
925
767
3
Chardonnay
1,000
2,000
1,366
13
Merlot
1,300
1,650
1,500
9
Petit Verdot
1,100
2,000
1,483
6
Riesling
963
1,200
1,121
3
Seyval
550
900
738
4
Vidal
700
900
773
6
Viognier
1,350
2,100
1,683
6
Return to Table of Contents
VI. Upcoming meetings:
A. Planning a nutrition program for your vineyard.
Host: Pennsylvania Association of Winegrower's (PAW) Annual Fall Meeting
Location: Lancaster Farm and Home Center, Lancaster, Pennsylvania
When: Wednesday, November 13, 2002
Time: 8:00 AM to Noon; Registration starts at 7:30 am. Afternoon program continues PAW business meeting, followed by disease updates and video related to pesticide applicators recertification
Cost: $30 for PAW Member; $50 for Non Members - coffee, drinks, lunch included.
Optional Dinner at Gibraltar Restaurant ($50)
Pesticide Credits are Available for Pennsylvania residents
Have you ever wondered what tissue and soil standards for vineyards are based on? How lime recommendations are made? Why petiole and soil tests don't give the same recommendation? Whether foliar feeds are useful? How to use this information to plan your fertilization program? Join us for an in-depth look at what goes into planning a nutrition program for your vineyard, starting with soil characteristics and ending with using information about your soils and vines to plan your fertilizer program.
We're fortunate to be able to bring together several Cornell Research and Extension specialists for this half-day program. Dr. Terry Bates has been a Research Associate for the past 4 years, and has worked extensively with grapes and root biology during that time. Tim Martinson will draw upon his five years of experience interpreting soil and petiole tests and puzzling over standards, recommendations, and grower inquiries. Finally Dr. Lailiang Cheng will provide his perspective on using the information you have about your vineyard to plan a fertilization program. Dr. Ed Ciolkosz from Penn State Crop and Soil Science will provide an overview of the geology of SE PA soils.
The PAW annual business meeting will also take place after lunch with elections of new board members followed by a harvest wrap up, crop insurance information and pesticide credit presentations (applicable to Pennsylvania residents).
For information and registration, please contact Mark Chien at 717 394-6851 or mlc12@psu.edu Registration will be limited to 60.
B. Virginia Vineyards Association Technical Conference
Make plans now to attend the annual VVA technical conference. This winter's meeting will be held 13-15 February 2003 at the Charlottesville Omni Hotel, site of last year's meeting. The 2003 program is still in development, but the general scheme is an opening session on wine marketing on Thursday, 13 February afternoon, followed by a wine social that evening. Friday, 14 February will comprise an exhibitor's trade show with the full-day technical program focusing on viticultural issues. Saturday's (15 February) full-day technical program will focus on winemaking issues. Viticulture topics will include a review of current research efforts, updates on pest management, an overview of Virginia soils as related to vineyard suitability, scheduling irrigation needs, and other topics still in discussion. Enology topics will include an overview of grape and wine production in Uruguay and a presentation on Tannat production; yeast nitrogen nutrition and nitrogen measurement, phenolics measurement and management, effects of training system on wine sensory characteristics, and more. Registration information and a detailed program will follow with the November-December Viticulture Notes newsletter.
Return to Table of Contents
---
"Viticulture Notes" is a bi-monthly newsletter issued by Dr. Tony K. Wolf, Viticulture Extension Specialist with Virginia Tech's Alson H. Smith, Agricultural Research and Extension Center in Winchester, Virginia. If you would like to receive "Viticulture Notes" as well as Dr. Bruce Zoecklein's "Vinter's Corner" by mail, contact Dr. Wolf at:
Dr. Tony K. Wolf
AHS Agricultural Research and Extension Center
595 Laurel Grove Road
Winchester, VA 22602
or e-mail: vitis@vt.edu
Commercial products are named in this publication for informational purposes only. Virginia Cooperative Extension, Virginia Tech, and Virginia State University do not endorse these products and do not intend discrimination against other products that also may be suitable.

Visit Virginia Cooperative Extension.
Visit Alson H. Smith, Jr., Agricultural Research and Extension Center.