You've reached the Virginia Cooperative Extension Newsletter Archive. These files cover more than ten years of newsletters posted on our old website (through April/May 2009), and are provided for historical purposes only. As such, they may contain out-of-date references and broken links.
To see our latest newsletters and current information, visit our website at http://www.ext.vt.edu/news/.
Newsletter Archive index: http://sites.ext.vt.edu/newsletter-archive/

Viticulture Notes
Vineyard and Winery Information Series:
Vol. 18 No. 1, January - February 2003
Dr. Tony K. Wolf, Viticulture Extension Specialist

Table of Contents
I. Current situation

II. Questions from the Field: Petit and Gros Manseng

III. A Virginia vineyards sojoum
I. Current situation
Pest Management Guides Available:
The 2003 Pest Management Guides are now available. Horticultural & Forestry Crops (456-017) contains the detailed information on commercial grape pest management. The guides may be ordered ($20) through your local Virginia Cooperative Extension office, or you can download an order form at: http://www.ext.vt.edu/pubs/pmg/

The Guide can also be downloaded for free in PDF format at the same website.

Return to Table of Contents
II. Question from the field:
Question: "I would appreciate some opinions on Petit and Gros Manseng."

Answer: Let's start with Petit Manseng, which was one of the 25 or so varieties established in our original variety testing here in Winchester in 1987. In the course of researching possible 'novel' varieties to evaluate at our research center in Winchester, I was intrigued by Jancis Robinson's (1986) account of Petit Manseng" "Petit Manseng is the vine primarily responsible for the truly great wines of Jurancon, one of France's unusually underrated treasures, Jurancon Moelleux". I subsequently had the opportunity to collect Petit Manseng budwood at the Geneva experiment station in November of 1987 - and was astounded at the high quality of the fruit that was still hanging on the vines, some weeks after fall defoliation. That observation, coupled with Robinson's description of a loose cluster of tiny, thick-skinned berries, that produced excellent wine quality, convinced me that we needed to include Petit Manseng in our variety evaluation. I was not disappointed. We fruited Petit Manseng for seven seasons between 1992 and 1998. It was trained to a vertically shoot-positioned canopy, cordon trained and spur-pruned, and was planted 7 feet apart in rows that were 12 feet wide. It saw a "standard" vinifera spray program so I cannot say that it was more or less tolerant of fungal pathogens than, say, Riesling or Cabernet franc. Our results with Petit Manseng, and the other white-fruited varieties that we evaluated, are described in Wolf and Warren (2000). Paraphrasing that paper, bud break averaged 21 April (same as Chardonnay) and the fruit required an average of 179 days from budbreak to ripen. Crops were relatively light (about 11 pounds per vine, on average) owing to very small berries and low cluster weights. Clusters were loose and exhibited a low rot incidence and severity (Table 1). Note that Chardonnay had very high rot levels in the cool, wet years of 1992 and 1996, whereas Petit Manseng came through with 1% or less rot.

Table 1. Fruit rot severity at harvest for Petit Manseng and, by comparison, Chardonnay clone #4 over six seasons.
Fruit rot severity (%)z
Petit Manseng
Chardonnay Clone #4
1992
0.0
7.1
1993
0.0
3.4
1994
0.0
-
1995
0.5
0.1
1996
1.0
18.1
1997
0.1
9.3
z This is a visual estimate of the overall amount of rotted fruit on a 0 ­ 100% scale.

The vines were vigorous and shoot topping was normally required to keep shoot tops from cascading back over the basal portion of the canopy. The vines experienced a -11°F event in January 1994 which caused 54% primary bud kill (100% on Chardonnay) and reduced the 1994 crop by 12% (100% loss with Chardonnay). I would cautiously say that Petit Manseng has fair cold hardiness among vinifera varieties. One of the most unusual features of Petit Manseng was its ability to accumulate extremely high sugar levels in the fruit at relatively high titratable acidity and low pH (Table 2). It was not unusual to harvest fruit at 29° Brix. Ripe fruit had a pronounced flavor blend of honey, some citrus and pineapple. The most similar tasting fruit, in my opinion, is Ravat 51 or Vignoles.

Wines made from Petit Manseng were very aromatic and were of very high quality. Petit Manseng wines fit a particular niche market, I believe. Finished with some residual sugar, they make excellent dessert wines. Dry Petit Mansengs are sort of like dry Rieslings or dry Gewurztraminers - if you aren't certain where to serve the latter two, you might have the same dilemma with a dry Petit Manseng.

Table 2. Petit Manseng Brix, pH and titratable acidity at harvest in seven years at Winchester.
| | | | |
| --- | --- | --- | --- |
| | ° Brix | pHz | Titratable acidity (g/L) |
| 1992 | 24.5 | 3.30 | - |
| 1993 | 29.2 | 3.20 | 4.6 |
| 1994 | 29.0 | 3.52 | 6.2 |
| 1995 | 29.0 | 3.30 | 7.4 |
| 1996 | 25.7 | 3.70 | 11.4 |
| 1997 | 28.6 | 3.10 | 7.4 |
| 1998 | 27.6 | 3.78 | 7.7 |
z pH values are typically raised 0.1 to 0.2 units due to running analyses on previously frozen fruit.

I did not discuss Petit Manseng in our 1999 variety publication (VA Cooperative Extension Publication # 463-019) for the simple reason that the variety has a tendency to retain very high acidity. Both Horton Cellars and Chrysalis Vineyards have, however, recently made very nice Petit Mansengs, and I think this variety has a bright future in Virginia, but again, as a niche variety.

It was this interest in Petit Manseng that led to our visiting the Jurancon region in our France wine study tour in December 2002 (www.fst.vt.edu/zoecklein). There are about 2500 acres of grapes in the Jurancon, with principal varieties being Petit and Gros Manseng, Corbu, Lauzet, and Camaralet. Only the Petit and Gros Manseng are considered important for quality wines. Rainfall and temperature conditions during the growing season and harvest are not too dissimilar to the mountain region of Virginia. The Jurancon wines that we tried were fantastic, with a nice balance of acidity and residual sugar, and intense flavors. If you're interested, look for Chateau Jolys, Clos Lapeyre, or Domaine Larredya Jurancon.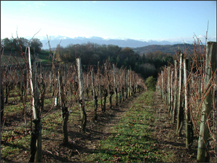 Figure 1. Petit Manseng vines in the Jurancon with the Pyrenees Mountains in the background (Cht. Jolys). Vine spacing was slightly more than 3 feet in the row and about eight feet between rows. Training is pendelbogen ­ head-trained and cane-pruned.
If I were to grow Petit Manseng in Virginia I would anticipate generally high vigor and might choose to train to Smart-Dyson or VSP with the option for Smart-Dyson (cordons at 42 to 44" above ground). In fertile soil either 101-14 or true riparia rootstock would be advised. The French have at least two clones of Petit Manseng, but I'm not sure how either of these relate to what I originally obtained from the Geneva experiment station. The variety requires a long season (I indicated an average of 179 days from budburst to fruit harvest) so parts of western Virginia may have insufficient frost-free days to ripen the crop and the wood. If you are an independent grape producer, be certain that you have established a market for the grapes before planting.
What about Gros Manseng? The Jurancon producers liked Gros Manseng because of its higher crop yield potential and many of the wines we tried there were blends of Petit and Gros Manseng. Excepting yields, viticultural qualities were similar. While there may be some merit in attempting to emulate the French blends of Petit and Gros, the impression that I had was that Gros contributed volume, and that Petit Manseng was the higher quality of the two varieties. Thus if I had to choose one over the other, as I did in 1987, I'd probably stick with Petit Manseng.
References
Robinson, Jancis. 1986. Vines, Grapes and Wines. Knopf, New York. 280 p.
Wolf, T.K. and M.K. Warren. 2000. Crop yield, grape quality, and winter injury of eight wine grape cultivars in northern Virginia. J. Amer. Pomol. Soc. 54:34-43.
Return to Table of Contents
III. A Virginia vineyards sojourn
By Mark Chien

Editor's note: The following story was contributed by grape extension agent Mark Chien of Penn State University following a four-day visit to Virginia in the fall of 2002. Mark has a gift for chronicling his observations in detail, and I thought it was worth reprinting these edited observations for the benefit of our industry.

I have this romanticized view of the eastern North American wine community - from Ontario to North Carolina, as one big happy grape stomping family. Anything that any of us (e.g. Finger Lakes, SE PA, LINY...) can do well will benefit all the others. From this peculiar perspective, I'm very glad to have Virginia as a close neighbor to Pennsylvania.

I had the pleasure of visiting 16 vineyards and wineries during a four-day tour through north and central Virginia in October of 2002. Virginia has impressed me as an emerging wine growing region that is definitely on the rise, both in terms of grape and wine quality and of wine consumer opinion. Since Pennsylvania and Virginia share a lot in common - climate, geology, topography, social and economic demographics, even our vinous history, to a degree - I thought it would be interesting to see first hand how the wines and vines in Virginia are doing.

They appear to be doing just fine. Immediately evident, at least in comparison to Pennsylvania, is the level of investment, both public and private, going into the Virginia wine industry. I saw a lot of new vineyards of both substantial size and quality. Like it or not, the quest for high quality wines and the development of serious wine industries in California, Oregon, Washington, British Columbia, Ontario and Long Island are all fueled by bags of money. It's just an expensive game to get into, and if you want to make great wine, lots of cash is the price of entry. Clearly, there is a feeling among wine lovers/entrepreneurs that Virginia wines have great potential and that large investments may be rewarded both in the glass and on the balance sheet. Projects both in the ground and on paper are very well conceived and executed. The owners have high expectations.

As in Pennsylvania, I saw a considerable variability in the quality of viticulture. Old vineyards in particular seemed to be experiencing problems, some seemingly insurmountable, in terms of their care and productivity. Not unexpectedly, early in the development of the Virginia vineyard industry, site selection was not a refined science (or art) and many of those vineyards have suffered the consequences in the form of persistent winter injury and frost damage. These vineyards may ultimately prove to be a drag on overall wine quality in the state - but with new viticulture technology and an infusion of cash, perhaps they can be resuscitated and profitably farmed. This dilemma relates to the important consideration of vine age on wine quality. The French are big proponents of this and most First Growth chateaux won't use any vines less than ten years old for their premier wines. I think vine age is important to fruit quality, but only in a well managed vineyard. This is an issue in the east, where trunk renewal is commonplace. I wonder how this affects vine age when you give a vine a new trunk on old roots? Old vines should be allowed to prove their mettle.

As a wine grape industry matures, so does the emphasis on proper site selection. That is clearly happening in Virginia. New and aspiring growers are looking for the best sites to grow high quality wine. Criteria such as elevation, slope and aspect in the context of absolute vs. relative values, and soils are all key variables in finding the best vineyard sites in Virginia. We need to pay more attention to these details in Pennsylvania. Elevation is an important consideration in low winter temperatures, frost (length of growing season) and day/night temperature during the growing season. It's an extremely fine balance between all of these factors to get just the right height - everything is affected by the relative effects of local topography. I was hearing that above 800 feet and no higher that 1500 seemed to be a good place to park a vineyard. The 700 feet of fudge factor could be the difference between super high quality wines and the long-term viability of the vineyard.

Soil is the other key component to preharvest decision-making. I learned a lot about green stone vs. granitic soils on this trip and their relative suitability for grapes. One site I visited seemed to be almost solid rock - possibly ideal for grapes and little else. But identifying which soils will ultimately produce the best wines in Virginia will be a grueling and lengthy task. At Boxwood Vineyard, 31 backhoe pits were dug on a 14-acre property to analyze the soil potential in hopes of using this data as a crystal ball into the future of that site. Understanding every aspect of soil chemistry, its physical and biological composition is crucial to predicting its wine quality potential. Virginia is still in the hunt for the best sites, but it is continuing to narrow the field. Alex Blackburn is a soil scientist who has recently taken an interest in working with vineyards. He has used his own methodology to define the high quality potential soils in Northern Virginia. One person with this kind of interest and experience could be a key to a lot of very nice wine. I like the potential of the granite-based sites that I saw. They compare favorably to the shale and schist impregnated sites in Pennsylvania's lower vigor soils.

Wine growing, however, is always about taking a zillion or so variables and making them blend harmoniously into a perfectly balanced ecosystem for the vine, or just the right terroir. Other key pre-plant decisions involve vine density, trellis selection and, of course, variety, clone and rootstock. These latter three cannot be overemphasized, and we tasted some dramatic differences in wines, most striking, perhaps, in various clones. All things being equal, clones may be the fine line that separates a really good wine from a truly great one. Certain varieties are more clonally influenced than others. Pinot Noir and Sangiovese are particularly temperamental. But we tasted Cabernet Franc, Merlot, Chardonnay and other varieties that also demonstrated that one must pay close attention to clonal selection. It was exciting for me to taste some new varieties like Petit Manseng, Tannat, Albariņo, to name a few, and I congratulate Virginia growers for taking a chance on something out of the varietal mainstream. A Petit Manseng at Chrysalis, when combined with artisan cheeses, just knocked our socks off! I'm still not completely convinced that Norton will earn a place at the table with the big, bad Bordeaux Reds, but it certainly shows potential and with some clever blending - a la Super Tuscan, maybe it can really impress. I guess I still can't get past the high acid and background grapiness on the palate. It's probably just my problem. Petit Verdot seems to be making an impression, perhaps not as a varietal, but as a useful blender. Cabernet Franc is good, but is it our future? I never really heard the issue of regional identity brought up by anyone and whether such an identity must be based on specific wines. At best I sensed a drift towards certain varieties but with no real destination in mind.

Human intervention (aka viticulture) is another factor that greatly affects quality. Having seen some great vineyard sites around the world, some of them poorly managed but still producing wonderful wines, I sometimes wonder if inept management can be overcome by the sheer potential of a quality vineyard site. I think that it can, in the most dramatic cases. But I doubt if a lesser site can ever produce really good wine - even if it is exquisitely tended. This is why site selection is so critical to the goal of making great wine. In Oregon I farmed the top of the hill - great in warm years, but difficult in cooler vintages. At O'Connor Vineyard on the bottom of the slope, Pat maintained as perfect a vineyard as one could imagine, but no matter how much money, time and effort he tossed at that site, he could never produce grapes as good as ours. Thumbing their noses at both of us was Bethel Heights, occupying the prime location on the hill right between us. Great soil. Perfect elevation. But clearly, whatever a grower can do to push the quality of his site will be rewarded in the bottle. Jim Law continues to be the ultimate example of this seemingly endless quest for quality. Our current culture supports an attention span of about two and a half minutes. Jim has farmed Linden Vineyards for over two decades and still has a curiosity and fascination for his site that borders on the manic. He is both intellectual and practical in his approach to managing his vineyard and seeks to extract every ounce of flavor from each cubic centimeter of ground. This passion extends to the winery as well, where he has recently designed and built a gravity flow system that aids in the gentle processing of the grapes and provides his crew with an inspiring view of the vines, orchard and local hills. I like the Jim Law model of running and doing business. He would certainly be the envy of every winery in the west. He pays growers by the acre and sells almost completely retail. And I like his wines, too.

I often shy away from the density issue because it's so confusing and most of my opinions originate from the gut, not from a reliable source of information. I know that some of the best Pinot Noir from Temperance Hill and the Willamette Valley are grown on a funky one wire trellis on 12x8 spacing. I'd never claim that this was the best situation, but it was fully capable of producing fine grapes in a good vintage. Lucie Morton and I spent quite a bit of time and energy parrying back and forth over the relative virtues of close spacing. Simply put, I'm in the "give the vine some elbow room" camp and Lucie is in the "whack 'em until they behave" camp. Here, again, there is evidence to support both sides. In Burgundy, on 1mx1m spacing, Lucie clearly wins. In most other wine growing regions, I think I have the edge where soils are often very deep and fertile. Ultimately, it's about achieving some state of vine balance - how you get there is open to debate. So we basically agree to disagree on this one. I am fascinated by the attempt of a few to tighten spacing down to 2mx1m - the results will be revealing, not just in terms of fruit quality, but issues of disease, economics, and lower back pain. Close spacing is no more a viticultural panacea than clones or training system; it's just one variable in a lengthy equation.

As in Pennsylvania, I will continue to stress the yield issue. I know people are sick of it and when I was a grower, doing crop estimates ranked right up there with spraying insecticides and filling out surveys. But if your goal is to make really good wine, you just need to be out there with your pad and pencil and calculator. I'm sorry. It's hot, sticky and the gnats are finding places to get in that you never knew existed, but, more often than not, herein lies the key to good wine and, to some extent, healthy vines. We tasted a Petit Verdot at White Hall where Karen Vaillent and Scott Cruden had carefully regulated the crop and it was a stunner out of the barrel. Again, certain varieties are more responsive to crop thinning than others, but most will benefit. This year was a tough one to read. With the drought, it seemed the vines would have plenty of season left to ripen a load, but would stressed vines have the energy to do it? Many vines in Pennsylvania gave up. It was a tough call. Then, the late season rains arrived and pumped up the berries and clusters, further hampering the struggle to optimal maturity. It's all part of this big equation called vine balance.

Canopy management was, as it is everywhere, all over the map. At Chrysalis I saw some of the most beautifully managed GDC this side of Nelson Shaulis. Norton never looked so good. Javier, the vineyard manager, does a superb job of separating the canopies and opening the centers. At Glen Manor and Linden, the Lyre system is implemented to perfection. Jeff White and Jim Law do excellent work with shoot positioning. It seems that a vertical shoot, even in a dense canopy, seems to open it up to light and air. VSP is done well at many places, but I feel obliged to point out the work of Fernando Franco at Barboursville Vineyard simply because he has so many acres of vines to tend. Nicely layered with moderate leaf pulling (he loves his new Avidor), it shows off the balance of vine and soil. While we were at Barboursville, Luca was kind enough to let us taste some machine- harvested Cabernet Franc. It was excellent. I wanted to say, "Just think how could it could have been if it were hand picked?" More and more wine makers are accepting (succumbing?) to machine harvested fruit. My opinion is unchanged - if the fruit is immaculate on the vine, fine. But it never is, even in a perfect year. Sorting in the field and on the crush pad is the only way to make the best possible wine - if that is the goal. I noticed that on many old, and some new vineyards, the fruit wire on VSP is being placed at 36+ inches - in my opinion, that's too high. What's all that space for anyway? On the other hand, pickers on GDC have to stretch way up to find the grapes. I also saw some Ballerina, Smart-Dyson and Scott Henry, all being utilized with varying degrees of success. New growers struggle to find the best system for their vineyard. I guess that's what we'll do until we (Mid-Atlantic) have a few hundred years of experience under our belts. I am certain that proper vine balance is vital for high quality fruit. If you want to see old vines with magnificently trained double trunks, stop by White Hall and look at their handiwork - each vine looks like a lyre. The name Gabrieli came up a number of times, and we got to see the Casarsi system at work at Jefferson and Kluge. It can't be dismissed because it's still in use at some very excellent vineyards in Oregon and Tuscany. But I wonder about its relative practicality versus VSP. Given the humidity and summer rain, every effort to open the canopy should be made. Any random shoot growth becomes dangerous. Lucie urges growers not to let bull canes shade fruit and leaves. I couldn't agree more. Unchecked vine vigor is a vicious cycle that leads to lower yields, poor fruit quality and more disease. I did notice that the phrase "balanced pruning" seemed to be somewhat of a mystery to most people. I think it's an important tool, just to see if your vines are in the ball park of vine balance until experience becomes your guide.

Disease control was, for the most part, very sound. Going around with Dr. Tony Wolf and two plant pathologists from Australia, however, allowed us to pick out flaws in the armor. Tony was hunting for grapevine yellows (GY) with Peter Magarey, a colleague from South Australia, and Tony's fearless research associate, Dr. LeAnn Beanland, who has devoted this part of her life to figuring out this odd malady. I learned how to ID yellows and that the big mystery is what exactly is the vector for this phytoplasma. I think it would be wise for all Virginia growers to learn more about this problem and be able to identify it. No doubt Tony has kept you well informed. During my wanderings, I saw a fair amount of late Powdery and Downy, as well as botrytis that was quickly degenerating to sour rot. The last storm on the 11th seemed to push the bus off the cliff - it's amazing how quickly fruit can degrade. A mad scramble for picking labor ensued, which got me to thinkingŠ how is the labor situation in VA vineyards? Machine pickers seemed to generate a collective sigh of relief among those who had access to them. I think this is BIG issue in our collective grape futures. Back to diseaseŠ all throughout our tour we noticed vines, of all varieties, ages and conditions, displaying very distinct rolling of the leaf margins. In some vineyards the symptoms were widespread. It seemed too pervasive to be Leafroll Virus and it wasn't always GY given the absence of other markers. Yet we were unable to figure out what it is or get a convincing explanation from any growers. Any ideas out there? GY also displays this condition but other symptoms were absent. I have not seen anything like this outside of a severely leafrolled vineyard in California.

That bug-a-boo of winter injury was evident at a few vineyards and dramatically in some older ones. As we have seen in Pennsylvania in the past two mild winters, Cabernet Sauvignon has shown its wimpy nature by succumbing, even more so than Merlot. Growers are giving up on Cab S, but I still hold out hope that we can figure out viticulturally how to make it viable and sustainable in our climate, and how to ripen it consistently. Winter injury remains a threat. We haven't really had a big hit for seven years. But it's out there, and prudent growers should not be complacent. I saw wind fans at some places - a good solution for a less than ideal site or frost pockets in the vineyard. Use of irrigation seems to be variable. For the most part, Virginia canopies looked pretty green compared to those in Pennsylvania. I'm guessing you had more rain than we did in August and September. However, I would not argue against the practical value of drip irrigation for fertigation and late season deficit or PRD irrigation.

Like Pennsylvania, Virginia has a lot of new growers getting into the game. At a beginner grower workshop in Winchester (October 2002), there were 50 people who have an interest in starting commercial vineyards. Most of them have no ag training or experience, but have been successful at some other endeavor - easy stuff, like transplanting hearts or something. Some might think the jump to farming is a no-brainer, but in my experience, smarts can only take you so far, and to succeed, you need to develop intuition about plants, weather and tractors. It's very important that these newbies be attended to. We visited some new operations and it's amazing how quickly people pick up the basics. But to really get to the next level and refine the viticulture, it takes an extra measure of learning and attention. I'm not sure exactly how this can be done other than fully supporting any extension efforts at Virginia Tech and holding your own grower meetings.

The new wineries we saw were just as impressive as the vineyards. Mostly functional, but also pleasing to the eye, they show that the owners have taken care in their design and selection of equipment and supplies. I was pleased to see sorting conveyors at a few wineries. I think it's one of the best kept secrets in the quality formula. Even more important, I believe, is the quality of vineyard and winery professionals in Virginia. You're way ahead of us in this category. Vineyard managers, consultants, wine makers and researchers are all essential parts of the brew that makes a viable wine industry. I was impressed by the dedication of the people we met who have chosen to make a living in the Virginia wine community. I hope that more will come. I think what our region needs now is a community college-based practically oriented viticulture and enology program that will train more professionals to meet the needs of an expanding regional industry. Tony and I have discussed putting together a vit short course - more in-depth than the beginner's workshop. Hopefully that will fill the gap until a real curriculum can be developed somewhere.

I see a lot of similarities between the evolution of the wine industry in Virginia and Oregon. Tony and Bruce are huge assets, and I hope everyone realizes this and will defend their dollars to the death. My perception of the current quality of wines relative to the relative benefits of research vs. marketing would dictate that the emphasis be placed on research. That's what I hope we will do in Pennsylvania. Make the good wines, then get out and sell them. Tony and Bruce are world class in their science and VT, the Commonwealth and everyone in the wine biz should be ecstatic to have their services. On the wine side, you have wine to sell and VDACS is another great asset, at least compared to paucity of resources in Pennsylvania. Make sure you have the people and a plan to make things happen. Oregon excelled in this area. A few brilliant and creative members of the wine industry dreamed up the Oregon Wine Marketing Coalition, the International Pinot Noir Celebration, Pinot Camp and the Steamboat PN Conference. These events give Oregon international exposure far beyond its relative size. Every five years a strategic plan was evaluated and reworked by a group of dedicated industry members.

Your new gubernatorial wine industry work group is a great step forward. I mean, how many states have a governor who owns a vineyard? Let's seeŠ Uh. Hmm. ONE! Good to take advantage of that happy coincidence. While he has to watch his politics, at least you know his palate is in the right place. I don't know much about VVA and VWA, but I suppose a few people are doing most of the work for the benefit of the many. Here in Pennsylvania we also have separate vineyard and winery associations. I don't think this is an ideal situation. Legislators like unity and fewer voices, so it would probably be a good idea to merge the groups. The more you work together, the faster and better you will get things done. I hold forth the example of Oregon and Long Island. In the same 15 years, Oregon grew from 1,500 to 10,000 acres. LI grew from 1,200 to 3,000. With $490K in annual funding, Virginia should be steam-rolling the rest of us. One thing we did recently in Pennsylvania is to create a commodity board for wine grapes. A $0.15 per gallon program charge on PA wine generates about $70,000 annually. But it also generates a lot of good will in Harrisburg. When you have money to match, it really helps.

I salute those Virginia wine growers - both in the vineyards and cellars, who are able to make good wine from this vintage, especially reds. It was shaping up to be an "easy" harvest then the weather got nasty. But it looks like most of you toed the line and tried to let the fruit hang as long as possible. It takes great care up front in the season to give the grapes a chance at the tail end. I know from experience that this is a nail-biting, white hair inducing part of the business we are in. But, it's the only way to get the flavors for good wine. I congratulate you on your patience, fortitude, determination and, hopefully, good judgment. I hope the payoff will come when you taste the wines this spring.

I am tremendously grateful to everyone who spent time with us during the busy harvest season. Some of you even fed us (which quite possibly saved our lives). The rolling hills, beautiful farms and rich history of Virginia offer a compelling connection to wine. And with Thomas Jefferson as your first distinguished wine connoisseur, I think you have a direct connection from a glorious past to an equally glorious future. I'm glad to be around to see it happen.

Mark L. Chien, Wine Grape Agent, Penn State Cooperative Extension
October, 2002

Return to Table of Contents
IV. Upcoming meetings:
March
15 Grape Expectations at Forsburg Country Club, Jamesburg, NJ. Annual wine and grape meeting in New Jersey. All day meeting covering a variety of viticulture and enology topics. Contact Sherry, Rutgers Cooperative Extension (609 758-7311) and Dr. Joe Fiola, Univ of Maryland Cooperative Extension.
16-19 Wineries Unlimited. Lancaster Host Resort, Lancaster, PA. Large meeting and trade show for the East and Midwest regions. Topics include sustainable viticulture, varietal sessions on Syrah, Viognier and red hybrid blends, grower topics include frost management, the grape root borer and drought management. For information go to http://www.vwm-online.com/

Virginia Cooperative Extension meetings organized by Rappahannock and Madison County offices
The Rappahannock and Madison Extension Office invites each of you to attend a series of vineyard meetings scheduled from April through September. These meetings will be held in vineyards located in the Northern Piedmont. For each meeting we will meet at the host site at 11:00 a.m. for a tour of the vineyard, followed by a discussion of current insect and disease control recommendations and other vineyard management practices. Virginia Tech Extension specialists will be available to address specific production topics and to examine foliage and insect samples from your vineyard. We will adjourn around 3:00 p.m. Bring a bag lunch.

This series of meetings has been approved for recertification of individuals holding a category 90 private pesticide applicators license. Should you have any questions about the meetings, please contact the Rappahannock Extension Office at (540) 675-3619.

April 23rd
Farfelu Vineyard, Owners John and Caroline Osborne; Vineyard Manager Joe Sullivan
Indusrty Prespective, Jeanette Smith, VineSmith Vineyard Services, VVA Board Member, VWAB Board Member
Weed Control Strategies and Products. Extension Weed Scientist, Horticulture Crops, Dr. Jeff Derr
Climbing Cut Worm Control and Other Insect Issues. VA Tech Entomologist, Dr. Doug Pfeiffer
Directions: From Washington DC: I-66 west 58 mi. to exit 27 (2nd Marshall Exit). Right on Rt. 647 for 12.5 mi. Winery gate on left after Rappahannock River. From Richmond: I-95 west. Rt. 211 West 16 mi. to Rt. 522, 3 mi. Right on Rt. 647, 6 mi. Winery sign on right.

May 21st
Prince Michel Vineyards
Early Season Canopy Management. VA Tech Viticulturist, Dr. Tony Wolf
Grape Berry Moth and Other Insect Issues. VA Tech Entomologist, Dr. Doug Pfeiffer
Directions: 9 mi. south of Culpeper on Rt. 29. 30 mi. north of Charlottesville on the west side of Rt. 29. Take Rt. 612 west approximately 2 miles to vineyard on left. Meet at equipment shed.

July 16th
Horton Vineyard (town of Orange). Owners, Dennis and Sharon Horton
Grape Root Borer and Other Insect Issues. VA Tech Entomologist, Dr. Doug Pfeiffer
Crop Estimation and Crop Reduction Methods. VA Tech Viticulturist, Dr. Tony Wolf
Fruit Maturity Evaluation for Growers. Enologist, Dr. Bruce Zoecklein
Directions: From Orange, south on Rt. 15 Business, turn left on Rt. 647 (Old Gordonsville Rd.), cross railroad track, go 100 feet and turn left on Berry Hill Lane.

August 20th
Virginia Tech's AHS Jr. Agricultural Research and Extension Center
Training System Comparisons. VA Tech Viticulturist, Dr. Tony Wolf
Fruit Maturity Evaluation for Growers. VA Tech Enologist, Dr. Bruce Zoecklein
Directions: From Interstate-81, take the Stephens City exit on the south side of Winchester. Go west into Stephens City (200 yards off of I-81) and proceed straight through traffic light onto Rt 631. Continue west on Rt 631 approximately 3.5 miles. Turn right (north) onto Rt 628 at "T". Go 1.5 miles north on Rt 628 and turn left (west) onto Rt 629. Go 0.8 miles to AREC on left.

Return to Table of Contents
---
"Viticulture Notes" is a bi-monthly newsletter issued by Dr. Tony K. Wolf, Viticulture Extension Specialist with Virginia Tech's Alson H. Smith, Agricultural Research and Extension Center in Winchester, Virginia. If you would like to receive "Viticulture Notes" as well as Dr. Bruce Zoecklein's "Vinter's Corner" by mail, contact Dr. Wolf at:
Dr. Tony K. Wolf
AHS Agricultural Research and Extension Center
595 Laurel Grove Road
Winchester, VA 22602
or e-mail: vitis@vt.edu
Commercial products are named in this publication for informational purposes only. Virginia Cooperative Extension, Virginia Tech, and Virginia State University do not endorse these products and do not intend discrimination against other products that also may be suitable.

Visit Virginia Cooperative Extension.
Visit Alson H. Smith, Jr., Agricultural Research and Extension Center.