You've reached the Virginia Cooperative Extension Newsletter Archive. These files cover more than ten years of newsletters posted on our old website (through April/May 2009), and are provided for historical purposes only. As such, they may contain out-of-date references and broken links.
To see our latest newsletters and current information, visit our website at http://www.ext.vt.edu/news/.
Newsletter Archive index: http://sites.ext.vt.edu/newsletter-archive/
Viticulture Notes
Vineyard and Winery Information Series:
Vol. 23 No. 3, November - December, 2008
Dr. Tony K. Wolf, Viticulture Extension Specialist, AHS Jr. Agricultural Research and Extension Center, Winchester, Virginia
vitis@vt.edu
http://faculty.vaes.vt.edu/vitis

Table of Contents
I. Reflections
The 2008 season was a model growing season for many in Virginia. Generally speaking, we had ample, sometimes too frequent, rains in the early part of the season and, excepting some stray tropical depressions, we had a relatively dry late-summer and fall. There were some vineyards hit by hail storms and there were assorted other misadventures reported including a few vineyards that had steel line-posts fail during thunderstorms, a few cases of downy mildew and powdery mildew getting out of control, and a higher than usual pressure from wildlife in some situations. Some of these observations warrant some elaboration, others are normal fare for grape growing in the mid-Atlantic.
Meteorologically, the 2008 season was cooler than 2007, at least here in Winchester: by the end of September, our accumulated growing degree days since 1 April were about 3200 (about the long-term average for Winchester) versus about 3500 for the 2007 season. Rainfall for the same periods was 28 inches in 2008 and 17 inches in 2007. We had 3.9 inches of rain this September compared to 3.3 inches in September 2007. Harvest commenced in late-August and, excepting some very late-maturing varieties, was finished by late-October. Scattered frosts around the 9th of October forced some harvests. The 2008 crop will likely be one of Virginia's largest, if not the largest. We had a number of reports of higher than expected crop levels and some of this appears to be related to both larger clusters and more clusters per shoot or vine than intended. Fruit quality was variable: while some growers commented on the cleanness and high quality of fruit, others commented on the slowness with which fruit ripened in September. The reasons for the latter are no doubt variable – the rains of September, leaf area compromised by downy mildew, over-cropping, leafroll virus, and cooler than average weather may have all contributed in some fashion in those vineyards where ripening was delayed. Where crop levels were managed, and where the crops dodged rains, the fruit quality was often very high. A common thread, however, was higher than usual juice acidity and somewhat lower than usual pH. Many growers mentioned that harvest was delayed a week to 10 days. Our own harvest here at Winchester was fairly close to the long-term average established during the nineties. For example, Chardonnay was harvested around the 21st of September (23 Brix, 3.43 pH and 0.71 TA). Given the advancing harvest date of the last 5 years, one could argue that 21 September was somewhat delayed. Lessons learned in 2008 to apply in the future?
Accurate crop prediction and crop level management is required every year;
grape contracts come and go – seek long-term commitments;
irrigation can advance grape maturity relative to drought-stressed vines;
wildlife damage comes in many forms (many reports of raccoons and hornets, not just deer);
and leafroll virus is an emerging threat (see related article, below).
II. New grape pathologist hired at Virginia Tech:
| | |
| --- | --- |
| I'm happy to report that our search this summer/fall for a grape plant pathologist culminated in our hiring Dr. Mizuho Nita, who will formally start here at Winchester in early January 2009. Dr. Nita, who is originally from Japan, received both his MSc and PhD degrees from The Ohio State University. His PhD research involved management of Phomopsis cane and leaf spot of grape. He developed a disease forecasting system for phomopsis based primarily on temperature and leaf wetness, and tested the system over several years and different locations. The system was effective in reducing the number of fungicide applications in several years at two locations. Additional work showed that dormant-season fungicide applications could reduce inoculum and subsequent infections, although there was considerable variation in the response. Mizuho also used spatial analysis tools to map the severity of phomopsis in Ohio as a function of weather and disease management practices. Mizuho will provide an introductory talk at the upcoming Virginia Vineyards Association meeting in February and will include a short review on his PhD research with phomopsis. Since obtaining his PhD in 2005, Dr. Mizuho has been working as a research associate, conducting epidemiological studies of a fungal disease of wheat. His interest in grape disease research and extension, however, sparked his interest in applying for our position. The grape pathology position will be roughly 50% research and 50% extension. We anticipate that Dr. Nita will engage in a range of research, including fungicide testing, variety susceptibility evaluation, exploration of cultural and chemical means of disease management, and development of novel diagnostic tools. Extension programs will target growers as well as Cooperative Extension agents with training in disease identification and management. | |
III. Leafroll virus issues:
Grape leafroll virus has been present in Virginia vineyards since the start of the contemporary industry in the late-seventies. The disease was recognized by its distinctive symptoms on red-fruited varieties such as the Bordeaux reds and it affected as much as 30 or 40% of early Cabernet franc plantings. Leafroll significantly reduces the quality of fruit and wine. It doesn't just delay ripening; it prevents the fruit from attaining its full potential ripeness, even if harvest is delayed by weeks. The incidence of leafroll virus appeared to decrease in the nineties, perhaps as nurseries became more conscientious about sourcing clean plant material. The incidence of this disease has spiked upwards in some vineyards in the last few years and we have circumstantial evidence of within-vineyard spread by aerial vectors. There is no therapeutic cure for leafroll and some Virginia vineyard owners have had to remove affected blocks of vines as grape and wine quality failed to meet their expectations. While there are numerous factors beyond our control that can detract from potential wine quality, leafroll is generally manageable and should not be among the factors that negatively impact wine quality. Here are some details: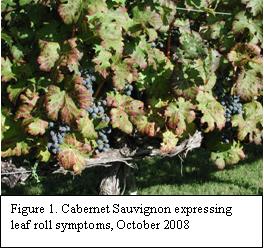 Symptoms: The most telling symptoms of leafroll virus occur with red-fruited varieties that synthesize and express a high proportion of red pigments (anthocyanins) in the fruit and leaves. The symptoms are noticeably expressed in late-summer and fall and appear as a reddening of the interveinal regions of the leaf with the leaf veins remaining bright green (Figure 1). As the disease name suggests, the leaves may also exhibit a downward curling or rolling of the edges. The symptoms start on the more basal leaves of the shoot but rapidly advance to younger leaves, including laterals. Although not as obvious, leafroll also causes a fading of the green color in white-fruited varieties, again with the leaf veins and immediately adjacent tissue remaining deep green and the leaf margins curling downward as the symptoms worsen. The symptoms could be confused with nutrient deficiency (such as phosphorus deficiency), but nutrient deficiencies usually affect many vines in a contiguous area of the vineyard, whereas leafroll virus will normally appear on individual vines, at least in young vineyards prior to potential spread (more on that shortly).
Effects: Leafroll virus reproduces in the phloem or food-conducting vascular tissues. Similar to the effects of phytoplasmas (also phloem-inhabiting microbes) found in grapevine yellows-affected vines, the leafroll virus particles disrupt the flow of carbohydrates and other metabolites to fruit and other sinks. The effect of this disruption is a decline of vine vigor, a reduction in crop yield (as much as 30% decrease), and a significant decrease in the "ripeness" of fruit on affected vines. Fruit on affected vines can be 3 or more degrees Brix lower than that of adjacent, healthy vines. Worse, the affected fruit often has very little varietal aroma and flavor characteristics, poor coloration, and fruit may be tart, although this is likely due to the relatively low sugar levels attained in fruit of affected vines. Leafroll is not isolated to vinifera varieties. Hybrids and even American-type varieties can be affected, although the effects of the virus are apparently less severe or non-apparent in American-type varieties.
The virus(es): Leafroll is caused by up to 9 distinct but closely related viruses that vary somewhat in their effects on the host plant. The leafroll viruses appear to be restricted to Vitis hosts. Native grapevines may be asymptomatic hosts (as is the case with grapevine yellows phytoplasmas), although this has not been thoroughly evaluated. Of the 9 (or more) viruses that comprise the grape leafroll family, grape leafroll 3 (GLRaV-3) appears to produce the most intense symptoms and adverse effects on vine health.
Spread: The grape leafroll viruses are all spread through propagation of infected plant material and they are graft-transmissible. Before the nineteen-eighties, this was assumed to be the principal, if not exclusive means of transmission. In the eighties, researchers began to accumulate evidence that mealybugs (small, soft-bodied insects) were capable of transmitting the leafroll viruses from vine-to-vine. California researchers confirmed this mode of transmission in the early nineties and found that four mealybug species commonly found at low populations in California were capable of transmitting GLRaV-3, and one (longtailed mealybug) was capable of transmitting GLRaV-5. Attention in California is also focused on a fifth mealybug – vine mealybug – which has the potential to be an even more effective vector. Increased incidence of grape leafroll virus in California vineyards in the last 15 years has led to speculation on several possible reasons, including expansion of known (mealybug) vector populations, potential involvement of other non-identified vectors, a heavy shift away from rootstocks such as St. George and AXR #1, which might have masked leafroll symptoms, and the possibility that one or more new strains of leafroll virus may have been introduced in the last 20 years. Recent research conducted by researchers at Cornell in New York State have shown a widespread occurrence of leafroll virus in Finger Lakes region vineyards; approximately two-thirds of 95 surveyed vineyard blocks had leafroll-positive vines present (GLRaV-1, GLRaV-2, and GLRaV-3 were all detected). We have invited Dr. Marc Fuchs of Cornell University to share the results of their work with leafroll virus at the upcoming Virginia Vineyards Association annual technical conference in February.
Although we have not conducted formal surveys of leafroll in Virginia vineyards, we've recognized its presence here since the early eighties. Anecdotal observations suggest that within-vineyard spread may also be occurring in our vineyards. A Charlottesville area vineyard experienced a dramatic population surge of grape mealybugs in 2006, to the point that some fruit was culled out in the harvest because of the "honey dew" excretions on the fruit. Incidence of leafroll symptoms, including leaf discoloration, lower yields, and decreased fruit quality have essentially increased to 100% of the vines by 2008. The affected vineyard blocks are being removed this fall for eventual replanting. Closer to home, we established a small block of Cabernet Sauvignon and Chardonnay here at the AREC in Winchester in 1990. We noted a few apparently leafroll infected Cabernet vines by 1995 when we were in the midst of a crop level experiment. Since 2000 we have noticed more symptomatic vines and we've observed that fruit did not ripen to the degree of ripeness that we had achieved in the vineyard's earlier years. This was also about the time we started observing mealybugs in the vineyard, at a time coinciding with our experiments with the use of under-trellis cover crops. The under-trellis vegetation and the presence of mealybugs may be purely coincidental; or not. There is much we don't know about this aspect of vineyard ecology. What was obvious by 2008, and confirmed by lab analysis of a dozen samples sent to Dr. Fuchs at Cornell University, was that our Cabernet and apparently the adjacent rows of Chardonnay were uniformly infected by leafroll virus. A survey of the vineyard in late-September revealed that every vine showed pronounced leafroll symptoms. This story is muddied a bit by the fact that we planted the Cabernet (CS clone #08) in 1990, at a time when the source wood was known to harbor GLRaV-3 virus. So, did the vines just take 10 years to show advanced symptoms? Is vine-to-vine spread occurring? Good questions for a grape pathologist and entomologist to collaborate on....
Recommendations: The research with leafroll is evolving with groups in both California and New York State actively involved. For new plantings, there is no change in the recommendation to use only certified wood to reduce the likelihood of planting grapevines that are already infected with leafroll or other pathogens. Some popular clones are known to be infected with one or more leafroll viruses: Cabernet Sauvignon clones #337 and #191 (ENTAV), for example, are known to be infected with the GLRaV-2 virus. Some argue that this virus does not measurably impact fruit quality, although if true in specific rootstock/environment situations, that may not necessarily be a universal truth. The consensus of virologists on this issue is to avoid plant material that has ANY leafroll virus. The potential vector situation is also clouded by lack of information: while we know that one or more mealybug species occur in Virginia and can be found in vineyards, we are uncertain of their vector status. There is also a potential for other, yet to be identified phloem-feeding vectors, although this is not necessarily a strong possibility. Given (a) the potential for vine-to-vine spread within the vineyard and (b) the known, negative impact of leafroll virus on grape and wine quality, it makes abundant sense to rogue out clearly symptomatic vines and to replant those vines with clean stock. Remember, the infected vines cannot be cured and they may be serving as a source of inoculum for further vine infections. It may pay at this time to monitor for mealybugs in your vineyard. If warranted, the current Virginia Cooperative Extension Pest Management Guide for grapes (http://www.ext.vt.edu/pubs/pmg/) lists six different insecticides that are labeled for this target.
Testing services: Confirmation testing for leafroll viruses can be done by commercial labs. Although several labs may provide this service, STA Laboratories (http://www.stalabs.com/) in Gilroy, CA is one that has specific experience with grape pathogens, including viruses. The STA Laboratories website contains much helpful information but you will need to contact the lab directly to obtain their current fee structure and packaging/shipping requirements. Bear in mind that leafroll virus particles are not uniformly distributed throughout the plant and there is potential for false negative tests – negative results when indeed the vine is infected. Suspect vines can be sampled during dormancy or with vegetative tissues in late-summer.
The following two references offer more detailed descriptions of grape leafroll virus research findings in California and New York State, respectively:
Sweet, N. 2008. Leafroll virus threatens California vineyards. FPS Grape Program Newsletter, October, 2008. Available online at: http://fps.ucdavis.edu/WebSitePDFs/Newsletters&Publications/GrapeNewsletterOct2008.pdf
Martinson, T. et al. 2008. Grapevine leafroll – an increasing problem in the Finger lakes, the US and the world. Cornell University Cooperative Extension. Available online at: http://winegrape.ag.psu.edu/docs/winegrapeinfo/attach/Grapevine_Leafroll_Cornell_Report.pdf
IV. Question from the field regarding pruning:
Q. I heard "cane pruning" with Merlot would help in lessening the possibility for overwinter damage to the vines. I know that Merlot is susceptible to winter damage. Would you recommend cane pruning for the Merlot vines this year? If so, when would you start to prune the vines, i.e. Dec., Jan., Feb.? In addition, would you use a pruning sealant on the canes to seal the pruning wound?

A. You've asked several questions here, one about cold hardiness, one about timing of pruning, and one about use of wound protectants; I'll comment on each.

Cold hardiness: Until recent years, I did not recommend planting Merlot in most areas of Virginia due to its apparent cold tenderness, as judged by grower experience. With a trend towards warmer winters, the threat of winter cold injury has lessened, and Merlot acreage has rapidly expanded and now comprises over 10% of Virginia grape acreage. According to the 2007 Virginia Agricultural Statistics Service commercial grape report, Merlot was the 3rd highest volume of Virginia grapes harvested in 2007, following only Chardonnay and Cabernet franc. Although Merlot can be considered relatively cold-tender, I would not expect its response to cold stress to differ from that of other varieties with respect to how it's pruned. There are two issues – effects of pruning on cold hardiness of retained wood, and the effects of training on the ability to compensate for injury in the event cold injury occurs. Some research suggests that cordon-trained and spur-pruned vines might have a slight cold hardiness advantage over head-trained, cane-pruned vines. However, crop load, disease incidence, canopy characteristics and other factors will have a much greater impact on cold hardiness. I would consider reasons other than cold hardiness potential when deciding whether to use canes or spurs. The second issue with this answer concerns compensating for injury: the more perennial wood maintained (e.g., cordons and high trunks), the more time is required in removing cold-injured wood and retraining the vines to the desired training system in the event of substantial cold injury to the vine. This argues against using elaborate training systems such as open-lyre and Geneva Double Curtain with extensive cordons where cold-tender varieties are grown in locations subject to damaging winter temperatures. These are more "training" issues than "pruning" issues per se though.

Timing: I would suggest pruning as late in the winter as you can. If you can complete the task in a month, starting in early March should be acceptable in most years here in northern Virginia. The research data on time of pruning effects on cold hardiness of retained wood generally trends towards "no impact". However, once the wood is removed, there's little or no room for compensation if you have a subsequent low temperature episode that injures buds or wood. This ability to compensate for cold injury by leaving more buds or extra canes is the principal reason for delaying pruning as long as possible.

Wound protectants: This topic has been covered in two previous Viticulture Newsletters (http://www.ext.vt.edu/news/periodicals/viticulture/05february/05february.html#II), although not exhaustively. Dr. Doug Gubler spoke about their research in California with pruning wound protectants at the Virginia Vineyards Association's annual meeting in February 2008. You asked if you should use a pruning sealant on the canes? No, there's no point in protecting the cut end of canes that would be removed in the following year. On the other hand, there may be merit in protecting larger (nickel-sized or larger) cuts made in the head region of the vine if you have evidence of Eutypa dieback or Botryosphaeria canker rots in the vineyard (see the previous newsletter topics on this subject). On a more general note, both Eutypa and Botryosphaeria rot are common in older Virginia vineyards. While we don't fully understand if topical wound protectants serve to reduce vine infection by these fungal pathogens in our environment, there is some evidence of their protective nature in studies done elsewhere. Topsin M WSB fungicide has a Special Local Needs label registration for this purpose in Virginia (EPA SLN No. VA-080003) and can be used at 3.2 oz per gallon as a painted-application or as a sprayable suspension for treating wounds. This application is specific for Virginia; however, several other states have similar special local needs labels for this purpose, so non-Virginia readers may wish to check with their own state sources. As Dr. Gubler pointed out this past February, the application of a fungicide would have to be repeated following rains to ensure wound protection. If you're spur-pruning, you should probably also be treating the cut ends of the spurs – they are presumably no less susceptible to fungal infection than are the larger pruning cuts made into wood that's two years old or older. Obviously, this will start to become a huge job with a spray bottle or a paintbrush!

You didn't ask the question, but a sidebar to this discussion is whether one should cane-prune or spur-prune for vine management reasons other than cold hardiness issues. Cordon-training and spur-pruning is commonly used and has both advantages and some disadvantages to cane-pruning. Advantages of cordons and spurs over cane-pruning include:
Elimination of labor involved with tying canes to trellis wire.
Ability to achieve more uniform shoot growth along a longer vine space distance. A cane laid out 3 or 4 feet often exhibits non-uniform shoot growth – vigorous shoots near the head and towards the distal end of the cane, but relatively poor shoot growth in the mid-cane region. This non-uniformity is not as obvious with cordon-training.
Ability to use double-pruning of spurs as a means of suppressing basal shoot development on the spurs and buying a few days of frost injury avoidance.
Probably easier to "rough prune" vines using unskilled labor.
Advantages of head-training and cane-pruning, on the other hand, include:
Fewer pruning cuts per vine.
Better node fertility with varieties that have low fruitfulness of basal buds (e.g., Sauvignon blanc and Nebbiolo).
Less shoot thinning required with varieties that have propensity to push a lot of non-count or base buds (e.g., Cabernet Sauvignon).
Less pest pressure in some cases. For example, older wood of cordons and spurs can harbor phomopsis cane and leaf spot inoculum, mealybugs, and European red mites.
In high-vigor situations, the minimization of perennial wood is thought by some to be a management tool to help reduce vegetative growth of big vines (I'm not convinced that it would work in our humid conditions, but there is some good logic to the argument).
Ability to avoid, and more easily compensate for, wood-rotting fungi such as Eutypa and Botryosphaeria canker.
V. Other news:
Pest Management Guides: Virginia Cooperative Extension's annually-revised Grape Pest Management Guides are available online now at: http://www.ext.vt.edu/pubs/pmg/. The 2009 PMG includes recently registered fungicides, insecticides and herbicides.

Wine Grape Production Guide for Eastern North America: This 330-page book finally goes to the print shop in December 2008 after a very long gestation. I'll call more attention to the book when it's in the distribution channels; however, a few last-minute reminders:
the pre-print cost of the book ($44) is much lower than the after-printing cost ($75).
The book will not be available online.
The pre-print savings period has been extended to 23 December.
The book is described and can be ordered online at: http://www.nraes.org/nra_winegrapecontent.html.
VI. Upcoming meetings:
The Virginia Vineyards Association's annual technical conference will be held in Charlottesville on 20-21 February 2009. Details are still be finalized and will be available with registration materials shortly after the first of the year. Virginia attendees who currently hold private pesticide applicators permits will receive full recertification credit if attending the full, two-day course. Confirmed topics at this date include:
Entomology research updates, Doug Pfeiffer, Virginia Tech.
Grape root borer research update, Chris Bergh, Virginia Tech.
Regulation of Cabernet Sauvignon vegetative growth via cover crops and root restriction, Tony Wolf and Tremain Hatch, VA Tech
Virginia Wine Marketing Office updates, Annette Ringwood Boyd
Safety and/or legal issues for pesticide recertification, Michael Lachance, Nelson County Cooperative Extension
Impact and importance of leafroll virus on grapevines and potential wine quality, Marc Fuchs, Cornell University
Selection criteria for clean, high-quality nursery stock, Helen Waite, University of Melbourne
Dealing with adversarial neighbors and legal compliance with pesticide laws, Tom Burke, Pesticide Services, VDACS
A vision for Virginia's grape pathology program and review of Phomopsis cane and leaf spot management, Mizuho Nita, VA Tech
Chardonnay grower and vintner panel
Trade show and vendor reception

Calendar of Regional Viticulture and Enology Events for 2009. This calendar is prepared each year by Mark Chien of Penn State, to whom I am grateful for taking on the task.
| | |
| --- | --- |
| January | |
| 9 | Viticulture Session, Long Island Agricultural Forum. Suffolk County Community College in Riverhead, NY. 9 am to noon, featuring Dr. Wayne Wilcox, who will present disease research results from his work in 2008. NC State pathologist Turner Sutton will discuss cluster rots and Alice Wise will present results from her fungicide trials. For a complete program listing and registration, contact Linda Holm at 631.727.7850 or lml10@cornell.edu. |
| | |
| 15 | Pennsylvania Association of Winegrowers Annual Meeting at Clover Hill Winery, Breinigsville, PA. Keynote speaker is Thomas Bachelder, vigneron at Le Clos Jordanne in Ontario talking about wine growing on the Niagara Peninsula.  Dr. Terry Bates from Cornell and James Fisher of Soil Solutions address vineyard soil matters.  Pesticide credits are available.  For registration and information please call Mark Chien at 717.394.6851. |
| | |
| 14-15 | Wine and Juice Analysis Short Course. Food Science and Technology Building, Virginia Tech campus in Blacksburg, VA.  A hands-on, practically-oriented laboratory course offered by the Enology and Grape Chemistry Group at VT.  The two-day program will have an emphasis on hands-on chemical, physical, microbiological and sensory analysis. Registration fee is $485.  Information is available at http://www.vtwines.info/ |
| | |
| 18 | Pennsylvania Wine Society: Best of Pennsylvania Wine Tasting.  Harrisburg Hilton.  7- 9 p.m.  This is a great chance to taste some of the best of Pennsylvania's wines.  The society hosts its own PA wine competition and holds this tasting for membership.  http://winesocietypa.org/default.aspx   |
| | |
| 21 | Pruning Workshop. Naylor Wine Cellars, Stewartstown, PA (York County).  9 a.m. to noon. Demonstration of commercial pruning methods, training and trellis systems for wine vineyards. Registration fee $25.  Call Mark Chien at Penn State Cooperative Extension for information at 717.391.6478. |
| | |
| 27-30 | Unified Wine and Grape Symposium. Sacramento Convention Center, CA.  Probably now the biggest wine and grape trade show and meeting in the country. Lots of research and practical viticulture and enology presentations including sessions in Spanish.  This year's theme is sustainability and green practices in the vineyard and winery. There is also a special aroma symposium on Friday. For information and registration at http://www.unifiedsymposium.org/ |
| | |
| 28-29 | Viticulture and enology symposium in Quebec.  More details coming soon. |
| | |
| February | |
| 3 | Grape Section at the Mid-Atlantic Fruit and Vegetable Convention. Hershey Lodge and Convention Center, Hershey, PA. 9 a.m.- 4 p.m. Topics at this year's grape session include: a report on the new wine grape varieties trials and alternative varieties, an update on grape root borer control, powdery and downy mildew control and a new web-based weather information system for forecasting disease and insect problems. This meeting is sponsored by the State Horticulture Association of Pennsylvania and Penn State Cooperative Extension, Rutgers University and University of Maryland.  PA and NJ pesticide credits are available. Large equipment and supplies trade show accompanies the program. For information and registration please contact Maureen Irvin at 717-677-4184.  Full details at http://www.mafvc.org/html/ |
| | |
| 6-8 | North Carolina Winegrowers Association Annual Meeting, Airport Marriott Hotel, Greensboro, NC. The theme this year will be NC Terroir: what is it, how to recognize it, and how to market it.  Information and registration at http://www.ncwinegrowers.com/. |
| | |
| 7-9 | 23nd Annual Midwest Grape and Wine Conference at the Tan-Tar-A Resort in Osage Beach, MO.  This is a major vit/enol program for the Midwest with a large trade show and grand banquet.  Sustainable viticulture and best practices are the theme for this year's conference.  For information and registration contact Rozanna at 573-486-5596.  For more information visit http://www.midwestgrapeandwineconference.com/. |
| | |
| 5-7 | Pennsylvania Association for Sustainable Agriculture (PASA) annual conference.  Penn Stater Hotel, State College, PA.  "Farming for the Future." This diverse 3-day convention brings together an audience of over 1,500 farmers, processors, consumers, students, environmentalists, and business and community leaders. The meals and food are extremely well done. For complete information and registration, go to the PASA web site at  http://www.pasafarming.org/conf2009/. |
| | |
| 7 | Pruning clinic in Maryland – Central MD REC, Upper Marlboro, MD. Class room and hands-on instructions for pruning commercial grapevines.  Registration fee. Contact Jan Rieke at 301-368-3464 for information.  http://www.marylandgrapes.org/. |
| | |
| 10 | Pruning Workshop.  Manatawny Creek Winery, Douglasville, PA (Berks County). 9 a.m. to noon. Demonstration of commercial pruning methods, training and trellis systems for wine vineyards.  Registration fee $25.  Call Mark Chien at Penn State Cooperative Extension for information at 717.391.6478. |
| | |
| 12-14 | Minnesota Grape Grower's Association Cold Climate Grape and Wine Conference.  Sheraton Bloomington Hotel, Bloomington, MN.  This meeting would be interesting to growers in cold regions of Pennsylvania. Great lineup of speakers covering all topics of cold climate viticulture and enology including sustainable viticulture, disease and insect management.  For more information go to http://mngrapes.org/. |
| | |
| 14 | Pruning clinic in Maryland – Eastern Shire of MD. Class room and hands-on instructions for pruning commercial grapevines.  Contact Jan Rieke at 301-368-3464 for information. http://www.marylandgrapes.org/ |
| | |
| 16-17 | Ohio Grape and Wine Conference.  Shisler Conference Center at OARDC in Wooster, OH.  Viticulture and enology education sessions including a new grower session.  Featured speakers this year include Ellie Butz, Christian Butzke, Tony Wolf and Rick Segel. For information contact Dr. Imed Dami at 330-263-3882 or visit the Ohio Grape Industries' web site at http://www.tasteohiowines.com. |
| | |
| 18-19 | OntarioFruit and Vegetable Convention.  Brock University, Ste Catharines, Ontario.  Viticulture and enology sessions with outstanding speakers.  A great excuse to visit Ontario and taste wines. A large trade show and Ontario wine tasting. For more information, please go to http://www.ofvc.ca  or contact Ken Slingerland 905-562-1639, ken.slingerland@ontario.ca. |
| | |
| 20-21 | Virginia Vineyards Association Annual Technical Meeting.  Omni Hotel, Charlottesville, VA.  Two days of practical information for growers and wine makers and research information from VA Tech. Topics to include research updates, legislative updates, trade show and annual VVA business meeting.  For more information, please visit http://www.virginiavineyardsassociation.com/. |
| | |
| 19-21 | Texas Wine Grape Growers Associations Annual Conference. Doubletree Hotel, N. Austin, TX.  Educational sessions featuring grape growing and wine making topics plus a trade show and banquet. More information at http://www.txwines.org/conference/default.asp |
| | |
| 21 | Grape Expectations: A Viticultural and Enological Symposium.  Forsgate Country Club. Monroe Twp, New Jersey.  Program TBA.  Always an outstanding wine and grape program that includes a mystery wine and awards for NJ wines are presented.  For information and registration, please contact Dr. Gary Pavlis at 609-758-7311.   |
| | |
| 21 | Pruning clinic in Maryland – Western MD Research and Extension Center in Keedysville. Class room and hands-on instructions for pruning commercial grapevines.  Contact Jan Rieke at 301-368-3464 for information.  http://www.marylandgrapes.org/ |
| | |
| 27 | New Grower Workshop, Hughesville, S. Maryland. The University of Maryland Cooperative Extension is offering one-day regional workshops for beginner and prospective grape growers in Maryland. This workshop offers a broad overview of commercial vineyard development from pre-plant planning into the third year including economics and marketing information, variety, clone, and rootstock choices, site selection and preparation, pre-plant decisions, equipment and supply requirements. We will also cover the basics of ordering, planting, and tending the vines through the third year of growth, as well as best practices for training, canopy management, and pest management. Registration fee is $30 in-state and $125 out of state.  Pre-registration is required.  Contact Dr. Joe Fiola at 301-432-2767 for registration and information. |
| | |
| 27- 3/1 | 2nd annual Virginia Wine Expo features over 50 of Virginia's best wineries and over a dozen restaurants and specialty food purveyors.  A great chance to experience Virginia wines.  Greater Richmond Convention Center, Richmond, VA.  For info go to http://virginiawineexpo.com/ |
| | |
| 28 | Maryland Grape Growers Association annual meeting.  Turf Valley Resort, Ellicott City, MD. www.turfvalley.com. Combined meeting of Maryland wine and grower associations.  Speakers include Stephen Mudd, vineyard development on Long Island, Brad Knapp, wine maker in the Lehigh Valley, enology consultant Richard Carey and Dr. Tony Wolf, viticulturist from VA Tech.  Visit http://marylandgrapes.org for more information or contact Dick Penna at 310-432-2338. |
| | |
| March | |
| TBA | Grape Disease Workshop. Farm and Home Center, Lancaster, PA. 9 a.m. to 3 p.m. This is the ideal time to plan your disease and pest control strategy for 2008. This workshop will offer the latest information on disease and pest control, including spray program review and how to control downy mildew, a particularly problematic disease in 2008.  Drs. Jim Travis, Noemi Halbrendt and Bryan Hed will lead the workshop.  Canopy management practices will also be thoroughly covered.  Core pesticide credits.  A second similar workshop is scheduled on April 7 in Berks County. |
| | |
| 6-7 | Finger Lakes Grape Growers Conference and Trade Show.  Holiday Inn. Waterloo, NY.  A grower oriented conference with practical sessions.  A large trades how.  Go to http://flg.cce.cornell.edu for more information. |
| | |
| 10-13 | Wineries Unlimited. King of Prussia, PA is the largest wine industry trade show and seminar program east of the Rockies. Four days of seminars supplement the trade show (on 3/11-12), with wine tastings and social events, including the second annual ASEV/ES scholarship auction fundraiser. Keynote speaker at the Wine Theme Lunch will be Karen Ross, president of the California Association of Wine Growers. For program details, exhibitor list and online registration, visit www.wineriesunlimited.com. |
| | |
| 13 | Winery Planning, Design and Expansion focus seminar at Wineries Unlimited led by Dr. Bruce Zoecklein, Virginia Tech. The program will cover practical topics of interest to those establishing a new winery or expanding an existing facility. Some of the most renowned winery architects and planners in the country will be on hand to present information and answer questions. If you are considering building or expanding a winery, this program is a must. Register for this workshop at the Wineries Unlimited web site.  Information at http://www.vtwines.info/ |
| | |
| 17 | Viticulture workshop in Quebec for cold climate wine growing. More details coming soon. |
| | |
| 18-19 | Lake Erie Grape Growers Convention.  SUNY, Fredonia, NY. A grower oriented meeting that covers juice and wine grapes.  A transition from juice to wine grapes workshop is planned.  Contact Linda Aures for information and registration at laures@netsync.net.  |
| | |
| 24-25 | Pennsylvania Wine Association Annual Meeting.  8 a.m. to 5 p.m. with awards banquet.  Penn Stater Conference Center at Penn State University. Viticulture, enology and wine marketing sessions.  Awards banquet and annual PWA business meeting.  Pesticide credits will be available.  For information, please call Jennifer at 717-234-1844 or visit www.pennsylvaniawine.com. |
| | |
| April | |
| 1-3 | New York Wine Industry Workshop.  Ramada Inn Lakefront, Geneva, NY.  This is the biggest enology conference in the region with lots of practical sessions and research reports from Cornell Food Sci and Technology.  Please check out the program at http://www.nysaes.cornell.edu/fst/vb/ or contact Nancy Long at NPL1@cornell.edu.  |
| | |
| 7 | Grape disease workshop. Berks County Cooperative Extension, Leesport, PA.  Get ready, here comes bud break.  9 a.m. to 3 p.m. This is the ideal time to plan your disease and pest control strategy for 2008. This workshop will offer the latest information on disease and pest control, including spray program review and how to control downy mildew, a particularly problematic disease in 2008.  Drs. Jim Travis, Noemi Halbrendt and Bryan Hed will lead the workshop.  Canopy management practices will also be thoroughly covered.   Core pesticide credits.  |
| | |
| May | |
| 20 | Crop Estimation and Fruit Zone Management workshop.  Location TBA in SE PA.  This workshop will help grape growers to do proper crop estimates and adjustments as well as techniques for fruit zone and canopy management to improve wine grape quality. |
| | |
| June | Summer vineyard meetings are offered periodically in Pennsylvania, Virginia, Western NY and the Finger Lakes.  Please look for further announcements about these important field days, coffee pots, twilight and other educational gatherings or contact the viticulture extension agent in each region. |
| | |
| 22-26 | American Society for Enology and Viticulture Annual Convention.  Napa Valley, CA. Seminars will focus on high brix winemaking, rootstocks and Cabernet Sauvignon.  There will be winery dinners and tours as part of the conference.  ASEV is the professional association of the U.S. wine industry.  The focus is on current viticulture and enology research.  For more information, go to http://www.asev.org. |
| | |
| July | |
| TBA | National Viticulture Research Conference.  UC Davis, Davis, CA.  This program is open to the public.  NVRC arose out of a desire to establish a national-level forum focused solely on viticulture research. The purpose of the conference is to provide public and private researchers, post-docs, scientific staff and students an opportunity to present their technical work to their colleagues during an intensive three-day program. 2007 proceeding, information and registration at http://groups.ucanr.org/nvrc/. |
| | |
| 12-15 | 16th GESCO International Viticulture Symposium in Davis, CA. |
| | |
| 20-22 | American Society for Enology and Viticulture Eastern Section Annual Meeting. Quail Hollow Resort, Painesville, Ohio. ASEV-ES presents current research in viticulture and enology issues that matter to local wine growers including graduate student research presentations. The symposium is "Wine Growing in the 21st Century."  Tour of local vineyards is optional but should not be missed.  Visit http://www.nysaes.cornell.edu/fst/asev/index.php for more information. |
| | |
| August | |
| TBD | Pennsylvania Association of Winegrowers annual summer vineyard walk-around. It is planned to have a second walk around in Erie this year.  Details forthcoming. |
| | |
| TBD | Virginia Vineyards Association's annual summer technical program. Check www.VirginiaVineyardsAssociation.com at later date for details. |

Visit Virginia Cooperative Extension.
Visit Alson H. Smith, Jr., Agricultural Research and Extension Center.